Tarot Inspired Life by Jaymi Elford
Author:Jaymi Elford , Date: July 1, 2020 ,Views: 173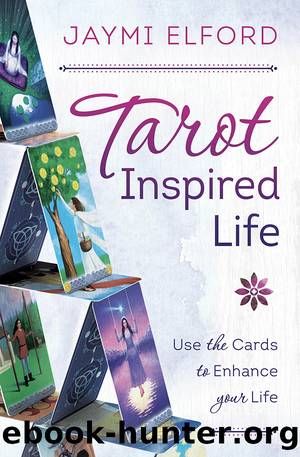 Author:Jaymi Elford
Language: eng
Format: epub
Tags: CVR04022018;jaymie elford;jamie elford;jaime elford;tarot-inspired life;the tarot-inspired life;the tarot inspired life;daily tarot;using the tarot;using the tarot everyday;tarot for inspiration;tarot for daily life;tarot cards;using tarot cards;using the the tarot daily
Publisher: Llewellyn Worldwide, LTD.
Published: 2018-12-10T17:40:50+00:00



Don't spend too much time on research. Keep the sessions short, no more than thirty minutes. You don't want the magpies and distractions to get in the way of your focus. If you're doing this in a group, reserve some time to let everyone swap stories.
When everyone is ready, next is the Meditation Phase.
Meditation Phase
In this third phase of Embodying the Archetypes, you'll use a recorded meditation script or have someone take you through. This script helps you fuse your personality with your selected archetype. With the archetype installed, you can use their power to help you in your daily life. If you are doing this in a group, you can ask the archetypes questions and see how they'd interact with one another in a talk show format.
Use the guided meditation in the next section to get connected to an archetype. The full meditation takes about twenty minutes but you can adjust the pace based on your needs and desires.
The questions inside the meditation are placeholders. Depending on which archetypes are with you, you could hold informal interviews with them and watch as they play off of one another. While it has not happened in any of my classes, if you have the more active or violent archetypes (like the Devil and the Tower), control the situation before it gets out of hand. Be prepared to calm things down and separate personalities if discussions get heated or carried away.
When you are finished, return to the script and allow the archetype to leave your mind.
Embodying the Cards Guided Meditation Script
Use this script to safely install various tarot archetypes into your personality. Feel free to swap, modify, or create your own version as you see fit. The italicized text suggests lengths for pauses. Adjust the pause lengths to your personal needs.
The bolded text is where you use the archetype in your day. You can also use the questions provided to do your own talk show in a group. Have fun with this. Give the archetypes time to talk to one another. It's amazing what insights they can share.
begin script
Get comfortable. Relax your body, starting at the head and working down to your toes. If you encounter stress or discomfort, massage it from your body. Put all stressful thoughts out of your mind, just for a little while. Slowly work your way through your body and release any tension you have. (Pause for 1or 2 minutes)
Take a deep breath. On the exhale, slowly breathe out. Take a few moments to sit in the present. Feel your surroundings and whomever is sharing this journey with you. (3 minutes)
Imagine stepping outside this space into the woods beyond. You're walking away from civilization. Feel the ground beneath your feet and the cool, spring air on your face. Allow yourself to wander in whichever cardinal direction pleases you. (3 minutes)
As you continue wandering, you see the limbs and leaves of a giant oak tree. It appears near where you are. Walk over to this tree and examine it.
Download


Copyright Disclaimer:
This site does not store any files on its server. We only index and link to content provided by other sites. Please contact the content providers to delete copyright contents if any and email us, we'll remove relevant links or contents immediately.