Supercharged Infield by Matt Christopher
Author:Matt Christopher [CHRISTOPHER, MATTHEW F] , Date: August 28, 2017 ,Views: 589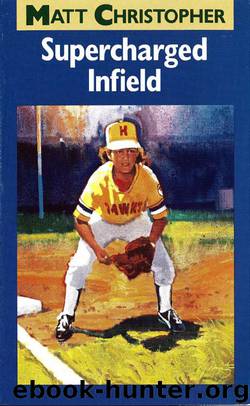 Author:Matt Christopher [CHRISTOPHER, MATTHEW F]
Language: eng
Format: epub
ISBN: 9780316094993
Publisher: Little, Brown Books for Young Readers
Published: 2009-12-19T05:00:00+00:00



NINE
"PENNY!"
Penny had left the dugout and was running to catch up with Melanie when she heard the voice. She stopped running, turned, and stared in surprise at the stout, slightly bowlegged boy sprinting toward her, the score-book clasped tightly against his side.
"Yes, Harold?" she asked as he came up beside her, puffing slightly.
That beaming face again! Was he mocking her?
"I'd like to ask you something," he said.
"Oh?" She started to walk on, hoping to reach Melanie at the gate. At the same time, she didn't want to be left alone with Harold. She had become frightened of him. She was sure now he was responsible for Karen's, Shari's, and Faye's strange behavior and abnormal athletic abilities. She had questions to ask him, too, but she wasn't prepared to spring them on him now.
She stared at him. "What is it you want to ask me, Harold?" she said, trying to keep her voice under control.
"Will . . . will you go to a movie with me this Saturday afternoon?" he asked in a soft, pleasant voice. "The one that starts at five P.M., because — "
Penny's hazel eyes widened as she heard his invitation. "You asked me once before, Harold, and I said I couldn't go."
He nodded, his head bobbing as if it were hooked onto a spring. "I know. And you said you were going to be busy that Saturday afternoon. I thought — "
"I'm sorry, Harold," she interrupted. "I mean . . . I don't know. I'll have to see if my mom and dad have anything planned. Okay?"
She had to get out of it somehow. And she didn't want him to think that she suspected him of any villainy. Not now. She felt she would be in danger now.
She flashed him a weak smile. "I'm sorry," she said again, and started to run toward the exit, when another voice suddenly called out to her. "Penny! Wait a second!"
Download


Copyright Disclaimer:
This site does not store any files on its server. We only index and link to content provided by other sites. Please contact the content providers to delete copyright contents if any and email us, we'll remove relevant links or contents immediately.