Streaming Analytics by Raj Pethuru;Surianarayanan Chellammal;Seerangan Koteeswaran;Ghinea George;
Author:Raj, Pethuru;Surianarayanan, Chellammal;Seerangan, Koteeswaran;Ghinea, George; , Date: September 10, 2022 ,Views: 56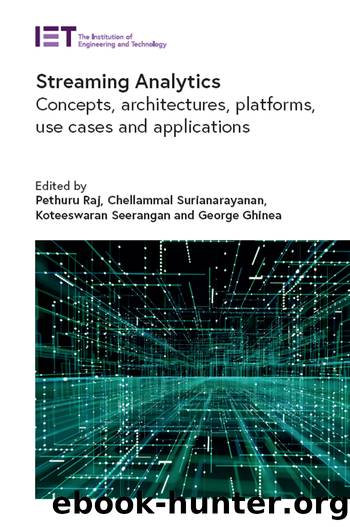 Author:Raj, Pethuru;Surianarayanan, Chellammal;Seerangan, Koteeswaran;Ghinea, George;
Language: eng
Format: epub
Publisher: Institution of Engineering & Technology
Published: 2022-08-25T00:00:00+00:00



Chapter 10
Describing the IoT data analytics methods and platforms
Pethuru Raj1 and P. Vijayakumar2
1 Edge AI Division, Reliance Jio Platforms Ltd., Bangalore, India
2 Department of ECE, Tech Park, SRM IST (Formerly known as SRM University), India
Abstract
As explained in the beginning of this book, the overwhelming leverage of miniaturization, digitization, distribution, consumerization (mobility), consolidation, centralization and industrialization (cloud), compartmentalization (virtualization and containerization), and deeper connectivity technologies has a number of trendsetting and transformational implications on IT as well as businesses across the globe. Edge or fog computing through cloudlets and micro clouds is another potential phenomenon for next-generation IT. There will be a cool convergence in forming and firming up hyper-converged cloud environments to host and deliver smarter and sophisticated applications for the total humanity.
All these advancements are bound to bring forth a number of distinct outputs and opportunities. The principal one among them is the enormous growth in data generation. Further on, there are greater variability, viscosity, and virtuosity in data scope, structure, and speed. That is, with the continuous growth of value-adding data sources and resources, the amount of data getting generated, captured, transmitted, and stored is tremendously huge. As data is turning out to be a strategic asset for any organization to be decisive, distinctive and disciplined in its operations, offerings, and outputs, a host of competent technologies, tips, and tools are being unearthed to smartly stock and subject all incoming and stored data to a variety of deeper investigations to gain actionable insights in time.
Especially extracting and extrapolating knowledge out of data heaps in time goes a long way in empowering every kind of enterprises and endeavors to be exceptionally efficient and effective in their deals, deeds, and deliveries. In this chapter, we would like to dig deeper and dwell at length on the various analytical approaches, frameworks, algorithms, platforms, engines, and methods for squeezing out value-adding and venerable insights out of IoT data.
Download


Copyright Disclaimer:
This site does not store any files on its server. We only index and link to content provided by other sites. Please contact the content providers to delete copyright contents if any and email us, we'll remove relevant links or contents immediately.