Star Trek: Dawn of the Eagles by S. D. Perry & Britta Dennison & Gene Rodenberry
Author:S. D. Perry & Britta Dennison & Gene Rodenberry [Perry, S. D. & Dennison, Britta & Rodenberry, Gene] , Date: June 11, 2021 ,Views: 31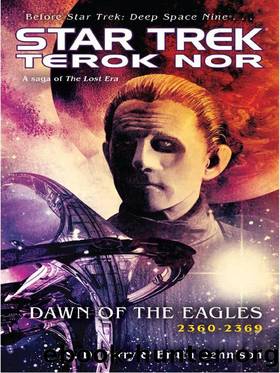 Author:S. D. Perry & Britta Dennison & Gene Rodenberry [Perry, S. D. & Dennison, Britta & Rodenberry, Gene]
Language: eng
Format: epub
Tags: Adventure, Science Fiction, Fiction, General, Media Tie-In, Science Fiction - General, General & Literary Fiction, American Science Fiction And Fantasy, Science Fiction - Adventure, Science Fiction & Fantasy, Space Opera, Fiction - Science Fiction, Science Fiction - Space Opera, Media Tie-In - General, Science Fiction - Star Trek, Star Trek fiction, Space stations
ISBN: 9780743482523
Publisher: Simon and Schuster
Published: 2008-05-19T22:00:00+00:00



14
Odo had been swept into an investigation regarding the brutal murder of a Bajoran chemist on Terok Nor, and he wasn't sure he was up to the task. In the weeks since he'd come to the station, since the prefect had recruited him for security, he had struggled to learn the job. He had observed and restated information to people with differences of opinion, and thus far, the disagreements he'd overseen had mostly worked themselves out. Gul Dukat said he'd wanted Odo because of his reputation as a mediator in some of the Bajoran villages, and more recently, with some of the Bajorans in ore processing. But solving Bajoran disputes and puzzling out Cardassian criminal codes were hardly the same thing. A deliberate killing was something entirely new in his limited experience.
Having just come from an interview with the Ferengi bartender, Odo was struggling to keep up with the interface on the security office's computer. The system differed from the one at the Bajoran Institute of Science, and Odo had not yet become accustomed to its peculiarities.
"Anything from the Ferengi?"
Odo looked up as a Cardassian man entered the room. Dalin Russol had arrived at the station shortly before Odo himself, to shore up security after the previous chief had left. Russol didn't seem to be especially keen on accepting the position as chief himself, however, although he had allegedly been offered the position, and had thus far been encouraging Odo to accept the role. A year ago, Odo would have accepted the encouragement at face value, but he'd learned a few things about the nature of humanoids. Enough to know that he understood very little.
"Not sure," Odo said, and left it at that. The Ferengi had given him a story that turned out to be false. A female suspect had bribed him for an alibi, which Odo supposed could be an indication of her guilt. But he had a nagging feeling there was more to the story. He looked up at Dalin Russol. "I don't know if I'm the right person for this job," he confessed. "The prefect seems to want me to simply find someone to arrest as quickly as possible, without completely ensuring that it's the right person. I don't know if he and I…" He stopped, for he didn't know how to put voice to the rest of it.
"What?" Russol asked him, but then supplied his own answer. "You wonder if the breadth of your own moral bandwidth might not completely overlap with Dukat's? Is that it?"
Odo wasn't sure, but he thought this sounded something like what he wanted to convey. He nodded.
Russol smiled. "That is exactly why you must accept this position, Odo. My understanding is that Thrax was as fair as a man could have been, for being a Cardassian, but you—you're an outsider. You'll escape the biases my people have for these"—he spread his hands—"Bajorans."
"Your people seem to have a natural prejudice against them," Odo replied carefully, for he still did not fully understand what drove the two races to despise each other so.
Download


Copyright Disclaimer:
This site does not store any files on its server. We only index and link to content provided by other sites. Please contact the content providers to delete copyright contents if any and email us, we'll remove relevant links or contents immediately.