Spice and Wolf, Vol. 10 by Isuna Hasekura and Jyuu Ayakura
Author:Isuna Hasekura and Jyuu Ayakura [Hasekura, Isuna and Ayakura, Jyuu] , Date: October 2, 2020 ,Views: 375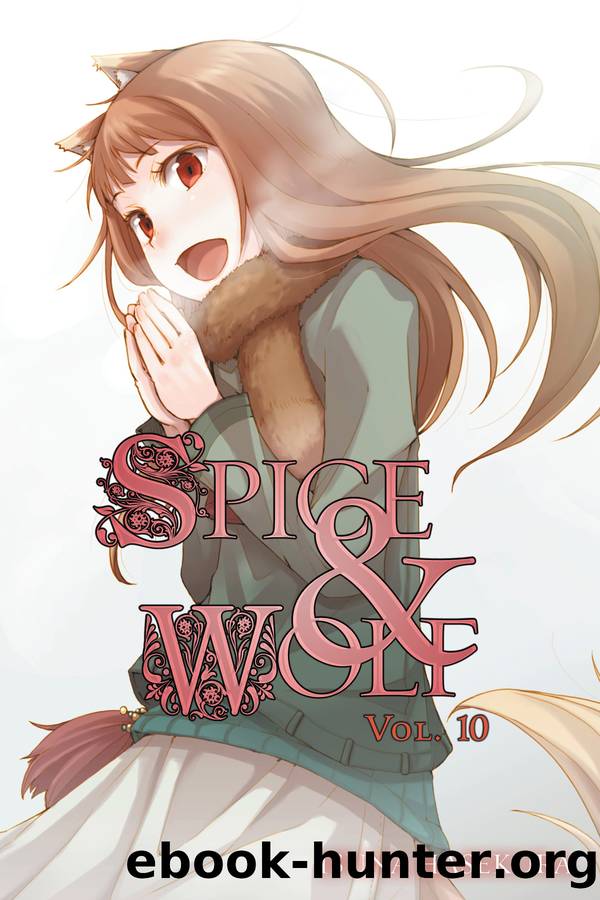 Author:Isuna Hasekura and Jyuu Ayakura [Hasekura, Isuna and Ayakura, Jyuu]
Language: eng
Format: epub
Publisher: Yen On
Published: 2017-03-21T00:00:00+00:00



CHAPTER FOUR
To journey back through the snow would require a certain amount of preparation.
This was why merchants so frequently boarded in inns for weeks and weeks during the winter. Even the most familiar, well-trod road became a foreign country when it snowed. Worse, a treacherous spot looked no different from a harmless field when covered in snow.
Winter travel required many things—a guide, a stout horse unfazed by deep snow, knowledge of lodges and cabins in which to pass the night. Travel took more time so food and water rations had to be calculated appropriately.
But fortunately, as long as there was demand, there would be supply. And it was no overstatement to say that the merchant quarter of the great Brondel Abbey was filled with travelers as far as the eye could see. Lawrence went to Piasky to ask after the services of the packhorse driver who had guided them on their way in.
Piasky was busy with documents at the alliance inn and was momentarily surprised at Lawrence's announcement that they would be leaving. But as winter travel required quicker resolve than summer journeys, and as Lawrence had compensated him rather generously for his services, Piasky readily agreed to help.
When a search for knowledge gave no results, a quick retreat was called for. If one had time to idly waste, it was better spent hurrying on to the next goal. While merchants greeted one another with happy smiles and handshakes, they parted just as happily.
It was a rather lonely way of getting by, but it had its advantages.
"This should put everything in order, then."
"I very much appreciate it."
"No, not at all. I've hardly been much help."
They exchanged merchants' pleasantries that were meaningless, though it would not feel right to skip them.
However, the handshake they shared next was anything but meaningless.
Just as a person's qualities could be seen in their bearing, their history came through in their handshake.
The moment of that handshake was the one that decided just how long a person's face would remain in memory.
Lawrence took Piasky's hand firmly and fixed his face solidly in his mind. He hoped Piasky would remember him equally well.
"I think we'll be able to leave tomorrow. Although…"
"Although?"
"A regular delivery from the capital in the west just arrived, and evidently the weather there is terrible. A messenger expected to arrive today still hasn't been seen. Doubtless that same weather will arrive here soon."
A blizzard could turn the entire world literally pure white. The most capable horseman in the world would do them no good at all.
"I've naturally no inclination to persevere in the face of a blizzard. There are three things you don't defy: the Church, an infant, and the weather."
Piasky smiled and nodded. "With luck, it will veer north. And since the shepherds should return soon, I'll ask their advice. They'll have the best knowledge of conditions outside…Ah, Mr. Lawrence, aren't you staying in the same lodging as they are?"
"We are. It's the best place to gather such information." Lawrence gave a quick bow after this joke and then put the alliance inn behind him.
Download


Copyright Disclaimer:
This site does not store any files on its server. We only index and link to content provided by other sites. Please contact the content providers to delete copyright contents if any and email us, we'll remove relevant links or contents immediately.