Red Menace by Lois Ruby
Author:Lois Ruby , Date: March 16, 2020 ,Views: 201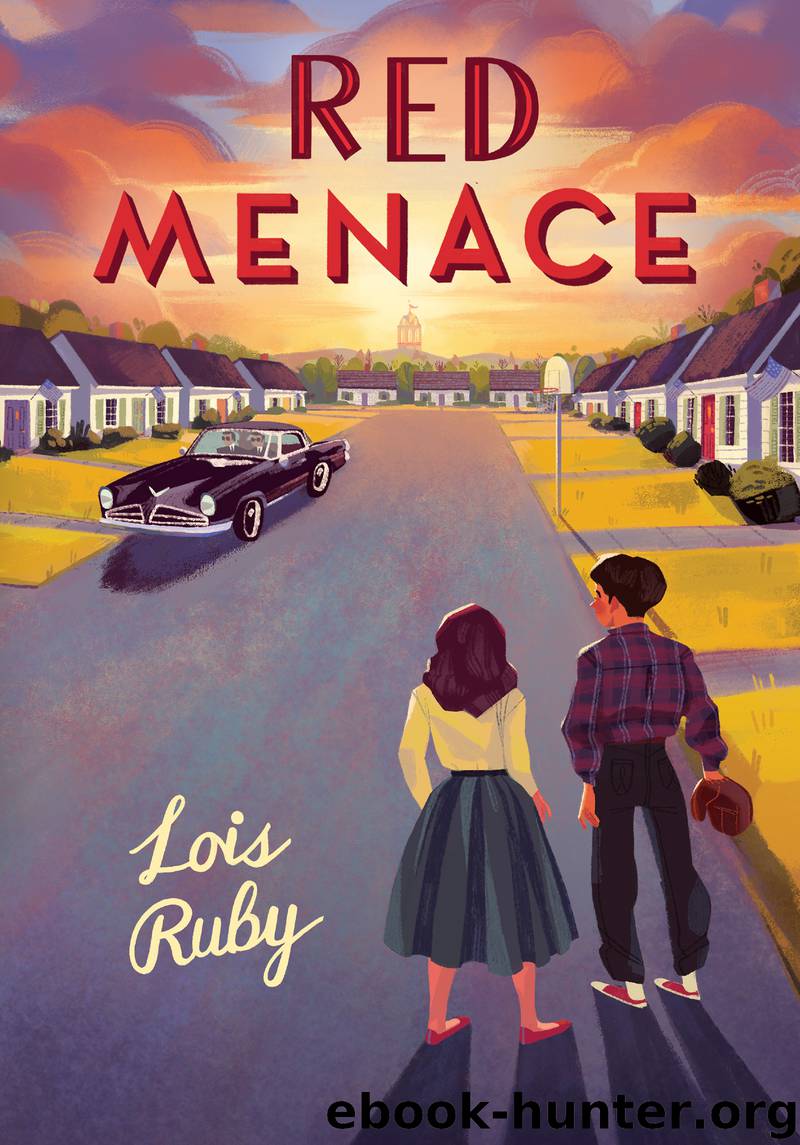 Author:Lois Ruby
Language: eng
Format: epub, mobi
Tags: Fiction, Fiction - Middle Grade, Middle-Grade Fiction, Middle-Grade Novel, Middle-Grade Novels, novel, Novels, Anti-Communism, Baseball, Carolrhoda Books, Cold War, Communism, Family, Family & Relationships, Friendship, Historical Fiction, Jewish Americans, Lois Ruby, McCarthyism, Political Activism, Red Menace, Red Scare, Social Activism, Social Commentary, Sports
Publisher: Lerner Publishing Group
Published: 2019-12-31T16:00:00+00:00



Chapter 22
Friday, May 15
"For heaven's sake, Marty, put that confounded bugle away!" Mom cries. Sheesh, I've only played about three wrong notes . . . out of six. But she's in a funk and not up for a serenade. Why? Partly because the Rosenbergs lost another appeal, probably their last, and their execution date is looming closer. Thirty-four days, now. But the bigger part is that she's scared—we all are—because she's decided to testify if the committee calls her. I would have tried to talk her out of it, but anything's better than sending her (us?) to Poland.
The National Lawyers' Guild has sent over a lawyer and some volunteer law students from Washburn University, over in Topeka, to prepare Mom to testify in front of the SISS. They've set up cots in the attic so they can work around the clock—even brought in a private eye to sweep the place for bugs. There's always somebody thundering up and down the stairs, or peering in our fridge, when they're not arguing up in the attic.
The lawyer, Mr. Quincy, and Vic, the immigration intern, have different game plans for Mom, and nobody seems to be coaching the series. They argue and work up in the attic, with Dad refereeing.
But everybody agrees Bubbie better find those citizenship papers, and pronto. The Immigration and Naturalization Service has no record of a Sylvia Sandler Weitz or Avrum Weitz becoming naturalized way back in 1907. Mom remembers that picture of Bubbie and Zeyde in the Uncle Sam hats, the day they took the citizenship oath, but maybe her memory is bogus. Maybe Bubbie and Zeyde lied about becoming citizens for so many years that Bubbie believes it really happened.
"More likely the papers have been disappeared," Quincy notes.
Mom's spitting mad. "You mean the INS and the FBI are in cahoots against me? They're supposed to be for the people, not against."
"Theoretically," Dad says, fanning himself with a sheaf of lawyer papers he's been monitoring. Documents. We're living in the Grand Canyon of documents.
There's lots of talk about whether Mom should read from a prepared statement, or whether she should plead one of the Amendments. Should she battle the committee on the grounds that the entire thing is unconstitutional?
Or should she simply name names?
Mom says, "I will not inform on other people, and that's final."
Mr. Quincy, who doesn't know yet how stubborn my mother is, dares to ask, "Even if the committee already has those names, Rosalie? Even if they're merely asking for confirmation?"
"Not even if the people are six feet under!" Rosalie shouts. "I refuse to implicate anyone else. In the Torah, there's a word for informing on someone. It means eating someone else's flesh. Cogitate on that image, people: eating someone else's flesh. This I will not do."
Who'd expect that Rosalie Rafner would suddenly thump the Bible?
Mom turns to me with a sickly smile. "Check the Yankees schedule, Marty. Maybe we can take in a game while we're in New York."
Mr. Quincy growls and slams his briefcase.
Download


Copyright Disclaimer:
This site does not store any files on its server. We only index and link to content provided by other sites. Please contact the content providers to delete copyright contents if any and email us, we'll remove relevant links or contents immediately.