Portraits of Violence: An Illustrated History of Radical Critique by Brad Evans & Sean Michael Wilson
Author:Brad Evans & Sean Michael Wilson [Evans, Brad] , Date: July 1, 2020 ,Views: 11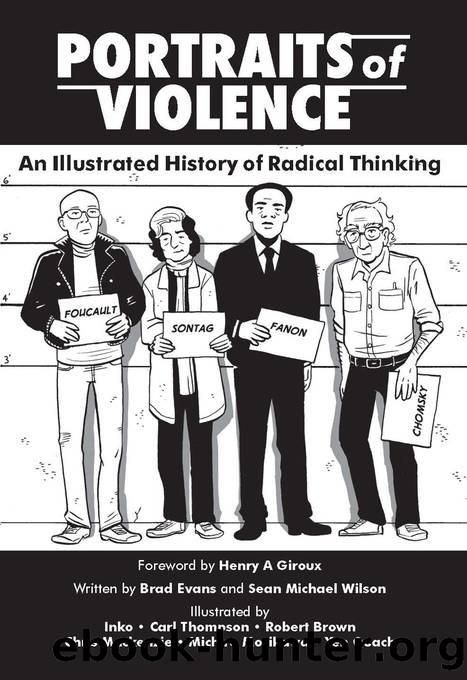 Author:Brad Evans & Sean Michael Wilson [Evans, Brad]
Language: eng
Format: azw3
Publisher: New Internationalist
Published: 2016-10-16T16:00:00+00:00



world. When politics becomes an extension of hate and economic distress, it
offers no guarantee to enlighten people politically. We now live at a time in
which people are diverted into a politics that celebrates saviors, denigrates
relations of power and policy, and provides a mode of escape in which
heartfelt trauma and pain are used not to mobilize people into democratic
movements but to blame others who are equally oppressed.
Atomization on a global scale thus points to a new form of invisible violence
because it shackles people to become prisoners of their own experiences,
cut off from the larger systemic forces that both shape them and for which
they bear little responsibility and over which they have no control. Anger,
indignation and misery need to take a detour through those ethical, political
and social models of analysis that connect individual issues to larger social
problems in ways that fight, rather than justify, that transformation of
grievances into a contemporary version of political fascism.
While there are no guarantees that a critical education will prompt
individuals to contest various forms of oppression and violence, it is clear
that in the absence of a critical formative democratic culture the forces of
authoritarianism and state violence will only become stronger. One can
easily extend this insight by arguing that as long as oppression and violence
are normalized and the larger public depoliticized through educational
practices that legitimate various forms of domination, any vestige of a strong
democracy will wither and violence will reign unchecked.
Such a task does, however, come with its challenges. Troubling knowledge
cannot be condemned on the basis of making students uncomfortable,
especially if the desire for safety serves merely to limit access to difficult
knowledge and the resources needed to analyze it. Critical education should
be viewed as the art of the possible rather than a space organized around
timidity, caution and fear. Confronting the intolerable should be challenging
and upsetting. Who could read the works of the authors and deal with
the examples featured here and not feel intellectually and emotionally
exhausted? It is the conditions that produce violence that should upset us
ethically and prompt us to act responsibly.
Under the present circumstances, it is time to remind ourselves that critical
ideas are a matter of critical importance. Those public spheres in which
critical thought is nurtured provide the minimal conditions for people to
become worldly, take hold of important social issues and alleviate human
Download


Copyright Disclaimer:
This site does not store any files on its server. We only index and link to content provided by other sites. Please contact the content providers to delete copyright contents if any and email us, we'll remove relevant links or contents immediately.