Popular: Vintage Wisdom for a Modern Geek by Maya Van Wagenen
Author:Maya Van Wagenen [Van Wagenen, Maya] , Date: July 27, 2017 ,Views: 1046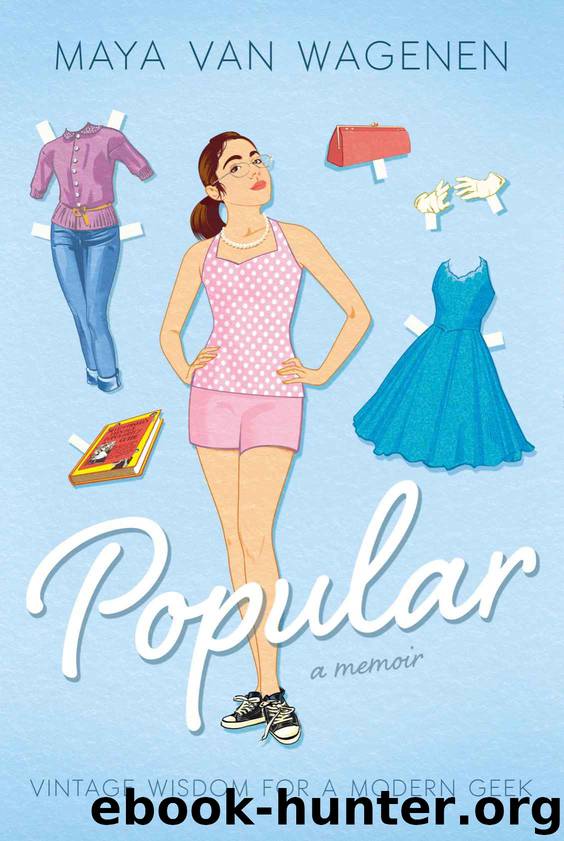 Author:Maya Van Wagenen [Van Wagenen, Maya]
Language: eng
Format: epub
Publisher: Penguin Group US
Published: 2014-04-15T00:00:00+00:00



At a choir concert wearing pearls
February
GOOD GROOMING & AWAY FROM HOME
In fairy tales, Prince Charming may have discerned Cinderella's beauty under the soot and ashes, but the chances are against a modern young man poking through layers of dirt to find his own true love.
The first time I ever witnessed popularity was when I was eight years old. There was a girl named Vanessa. She had to have spent hours on her clean, organized appearance every morning. And, of course, the guy I had a crush on at the time, Jason, was in love with her.
I'd stand in front of the mirror and look at myself judgmentally for hours trying to figure out the differences between her and me. She was thin; I was chubby. She had smooth skin; I had a unibrow. She had new, pressed, clean clothes; I wore stretch pants and hand-me-downs. She had guys follow her home; I had the neighbor boy who would throw naked Barbies into our lilac bush. Vanessa was perfect. How could I measure up?
She was just so . . . put together.
This month I will strive to be more like Vanessa. I will iron my clothes. Bathe or shower daily. Keep my nails trimmed and my legs shaved. Take care of my unibrow. I will follow all of Betty's advice on how to be neat, tidy, and completely changed from my slobbish self. If the saying "The devil is in the details" holds true, then this is where the real transformation begins.
Thursday, February 2
Nobody wants to book a girl with dirty fingernails or a torn blouse. And certainly nobody wants to work with a model who stints on bathing and doesn't use a deodorant.
Kenzie and I stand outside waiting for school to start. My wardrobe has changed again for this month's theme. I've moved from rumpled skirts to ironed pants and spotless sweaters. My hair is slicked back in a neat ponytail. My Pilgrim shoes are shined.
All leather goods need to be polished—a little elbow grease and some wax will work wonders and make the leather last longer too.
When I point this fact out to Kenzie, she snorts. "What kind of a loser polishes her shoes?"
. . . . . . .
I wear the same outfit to the church youth activity tonight. Liliana gives me a strange look but says nothing. I try to ease the mood with light conversation about the book I'm reading, which happens to be The Hobbit.
Ethan walks in and asks what we're talking about.
Uh-oh. . . . Here comes the verbal retching.
"Some girls at school and I do competitions on who can sound the nerdiest," I spew forth. "You see, one girl is a big follower of Star Wars, and another does Star Trek and now I'm reading Lord of the Rings." It's all true. Two Choir Geeks and I started the battle a couple days ago. There is no definite winner yet.
Then like a God-sent messenger, the rational voice comes back to my head.
SHUT
Download


Copyright Disclaimer:
This site does not store any files on its server. We only index and link to content provided by other sites. Please contact the content providers to delete copyright contents if any and email us, we'll remove relevant links or contents immediately.