Peter and the Pilgrims by Louise Vernon
Author:Louise Vernon [Vernon, Louise A.] , Date: January 20, 2023 ,Views: 26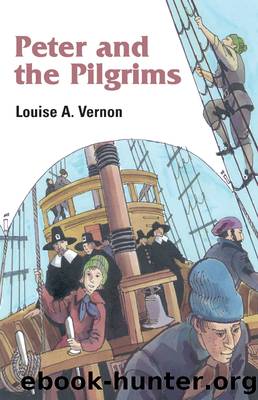 Author:Louise Vernon [Vernon, Louise A.]
Language: eng
Format: epub
ISBN: 978-0-8361-9226-1
Publisher: MennoMedia
Published: 2012-01-15T00:00:00+00:00



Chapter Seven
TRAPPED IN A SINKING SHIP
The piles of casks and crates grew high as both crew and passengers helped unload the Speedwell. There were the firkins of butter, kegs of flour sealed with wax, and barrels of water.
Peter stepped over some iron kettles and pointed to boxes of seed.
"Elbert, look at these." He read the labels—peas, beans, onions, parsnips, cabbage.
"I just know they'll grow twice as big in America," he said. "If only there could be some way for us to go."
Each boatload added different supplies to the growing mound—digging tools, carpenter's and mason's tools, fish nets and tackle, cloth, shoes, even blacksmith shop equipment.
"But we aren't taking any horses," Peter told Elbert, just as if he were still going. Then he remembered, and sighed again.
Elbert comforted him. "This won't be the only trip, Peter. We'll try to go on the next one. Maybe there'll be horses then."
A number of men began to sort out supplies.
"I'll leave the fishing nets I made," one said. "I won't need them back in Leyden."
"I'm leaving this cloth I wove. They'll need it worse than I do," another said.
"Was the house brace stowed on the little ship or the big one?" a third man wanted to know.
"On the big ship. It was too long for the Speedwell."
Peter broke in. "Do you know how many are going back to Leyden?"
"About eighteen or twenty of us, I would say" the first man said.
"But I thought only servants had to go back. Don't you want to go to America?" Peter asked.
"Not now." The man sounded embarrassed. "This trip is not meant to take place. Look at all the trouble we've had. It's God's warning to us."
Hope sprang up in Peter's heart. He beckoned to Elbert, and they ran to find Elder Brewster.
"Everybody is going back to Leyden, Elder Brewster. There'll be plenty of room for us on the Mayflower," Peter said.
Elder Brewster smiled. "Now, Peter, are you sure everybody is going back?"
Peter felt his face grow hot. "I-I-I just mean that some people are going back."
"That's better. Yes, we have just found out that eighteen or twenty have decided not to sail." Elder Brewster turned to Christopher Martin. "Wouldn't you say that's a safe margin?"
Christopher Martin growled. "Safe enough. If any more back out, we might as well all stay."
The word spread quickly: "Family servants can go after all."
"Elder Brewster, what about us? Does that mean we can go?" Peter tugged at Elder Brewster's blue coat.
"Yes, indeed, it means just that." Elder Brewster gave a hug to each boy, "Now, stay close to me. I'm going to have a roll call and you boys can help me find everyone."
Elder Brewster directed those who were returning to Leyden to stand on one side of the dock and the passengers for the Mayflower on the other. Peter recognized Priscilla Mullins in the Mayflower group, and he remembered he had not brought back her cup. In fact, he couldn't remember what happened to it. He looked around to see if John Alden had come, but he wasn't there.
Download


Copyright Disclaimer:
This site does not store any files on its server. We only index and link to content provided by other sites. Please contact the content providers to delete copyright contents if any and email us, we'll remove relevant links or contents immediately.