Pearl Harbor Is Burning! by Kathleen V. Kudlinski
Author:Kathleen V. Kudlinski , Date: March 21, 2020 ,Views: 203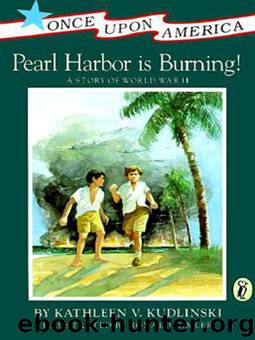 Author:Kathleen V. Kudlinski
Language: eng
Format: epub
Published: 2019-03-09T16:00:00+00:00



The boys began gathering the scattered school-work. It took a while. They found Frank's math paper in a flower bush. His reading book was on somebody's lawn. His spelling work had fresh tire tracks across the back.
"Those creeps could have killed me," he grumbled when he found his library book. Its cover, with the picture of Babe Ruth on it, was almost ripped off.
"No. They just fooling around. Bullies. They give every new haoli a hard time for a while." Kenji handed Frank his arithmetic book. "Those guys study judo with me. If they wanted to, they would hurt you bad."
Frank wanted to ask what judo was. There certainly wasn't any of it in Maryland. But he didn't want to look stupid. Instead, he asked, "What kind of a name is Kenji?" as they gathered up the last of his books.
"Japanese."
"Swell! I've never known anybody from Japan."
"You dumb haoli. I was born in Hawaii. Me one American like you."
"Oh." Kenji didn't look or sound like any American Frank had ever known, but it wouldn't be polite to say so. "Well, uh, thanks for the help."
Frank grunted as the pile of books bumped into his sore ribs. He shifted them into his other arm, and began limping back up the hill. To his surprise, Kenji came along.
"You like baseball?" Kenji asked, pointing to the tattered library book Frank held.
"I pitch."
"You any good?"
Frank nodded. "Our team was 12 and 0 last spring. Does Pearl City School have a team?"
"We were tops in 1941, too! Our best pitcher just moved off island. We sure can use you!"
That sounded great, Frank thought. Maybe Kenji could introduce him to some other team members. Ones he could really be friends with. For now at least he had somebody to talk to.
"You collect baseball cards?" he asked. When Kenji nodded, Frank grinned. "Do you trade? I have an extra 1937 Joe DiMaggio. Maybe we could throw a ball around, too." Frank stopped by the gate to his house. "Hey, you didn't have to walk me home."
"I live two doors down the street from you. My father owns your house."
Now Frank did feel dumb. "How come I never see you on the street?" he asked in surprise.
"I don't have much time. After school, I take classes in Japanese. Saturdays, I go to classes at the Japanese Community Center at the Buddhist temple."
"What about Sunday? I've got a tree fort down in the gully by Pearl Harbor. Want to play there in the morning?"
Download


Copyright Disclaimer:
This site does not store any files on its server. We only index and link to content provided by other sites. Please contact the content providers to delete copyright contents if any and email us, we'll remove relevant links or contents immediately.