Networking Like a Pro by Ivan Misner
Author:Ivan Misner , Date: November 20, 2017 ,Views: 1194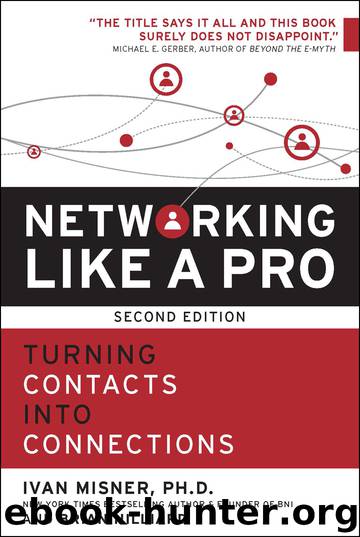 Author:Ivan Misner
Language: eng
Format: epub
ISBN: 9781613083581
Publisher: Entrepreneur Press
Published: 2017-09-15T04:00:00+00:00



CHAPTER 22
Standout Questions
Advance bonus question: what's the easiest way to be seen as a bore?
That's right. Talk about yourself.
So why would anyone think that successful networking means cornering as many people as possible and telling them all about your business? To the contrary, the best way to entertain a new contact and potential future referral partner is to get him to talk about himself and his business.
Your goal in a networking event is to make yourself memorable without talking about yourself. It sounds paradoxical, doesn't it? But if you know how to do it, you will stand out in people's minds when they look back on the event. The secret is simply to ask people questions about themselves and their businesses.
A lot of people you run into at networking events are so busy talking about themselves, their products, and all the great things they can do for you that they never take a breath and ask about you. (These are often the same people who say networking doesn't work for them.) Instead of competing with these folks by getting into a boasting contest about who does the most business, imagine the result of asking questions that encourage them to freely share that information. Now, instead of them talking and you interrupting (or vice versa), you are creating a networking environment in which they're talking, you're listening, and everyone is feeling heard. Not only will this technique help you stand out from the crowd, but it will also get you a ton of referrals.
People refer business to people they like and respect. This is why, when you give others time to tell their story and explain their business, your stock automatically rises in their eyes. Throw in that you've got a top-flight product or service—don't worry, eventually the other guy will wind down and you'll get to talk about yourself—and you'll see how it's a lot easier than many people think to create a solid referral partner.
Download


Copyright Disclaimer:
This site does not store any files on its server. We only index and link to content provided by other sites. Please contact the content providers to delete copyright contents if any and email us, we'll remove relevant links or contents immediately.