Margaret Malcolm by Return to Blytheburn
Author:Return to Blytheburn [HR-1805] (v0.9) (epub) , Date: January 14, 2021 ,Views: 11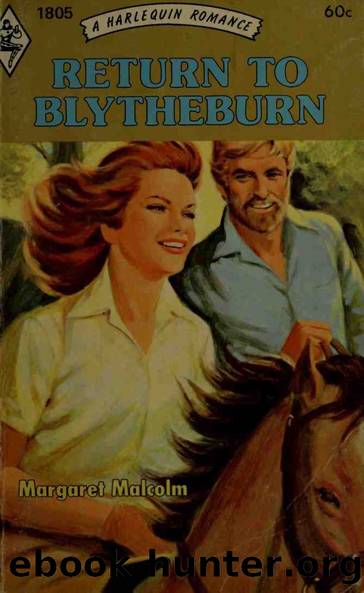 Author:Return to Blytheburn [HR-1805] (v0.9) (epub)
Language: eng
Format: epub



Meg was very careful to arrive punctually at. the time they had arranged for their first session. Hector was already working at his big desk and didn't stand up to greet her as he indicated the chair opposite to his.
"I've a batch of letters I'd like to give you," he told her in a brisk, businesslike way. "That notebook in front of you—is it suitable?"
"Quite," Meg said equably as she took her ball-point pen from her handbag, and sat with it poised over the notebook.
Without further ado Hector began to dictate his letters, and Meg quickly discovered that he was one of those rare beings—a person who knew what he wanted to say, expressed himself concisely and, most unusual of all, had no irritating mannerisms. To her own annoyance she had felt more than a little nervous, but before she had finished more than a couple of paragraphs she was completely at her ease. And so, for that matter, was Hector. Only once, when a telephone call had interrupted him, did he ask her to repeat the incomplete sentence. And when, at the end, he asked her if she had any queries, Meg had only two which were perfectly justifiable since he had used agricultural terms with which she was unfamiliar. He spelt them out for her, added a brief explanation of what they meant and stood up.
"One thing about an old house like this is that there are so many rooms which lead off one another," he remarked, and walked over to what looked like a section of panelling between two rows of bookshelves. "This door opens like the one at the foot of the stairs—" he explained, pushing a small, unobtrusive switch at which the door opened. "I'd just like you to check that you have everything you need—" he went on, and stood back for her to go in.
Meg looked round the room with interest. It was smaller than Hector's study-office but comfortably roomy for all that. The furniture, apart from the desk, a swivel chair and a modem-looking typewriter, consisted of several filing cabinets, a small extra table and chair and a cupboard which Hector opened to display a stock of various stationery supplies. The floor was carpeted, there was a radiator run off the central heating and two good sized windows which gave excellent lighting.
"All right?" Hector asked briskly.
But to Meg's ears there was just the tiniest hint of complacency in his voice. It was a pleasant and convenient room in which to work—and he knew it! What was more, he was responsible for it.
"Oh yes," Meg said unhesitatingly. "In fact, there's only one suggestion I'd like to make—"
"Indeed?" There was a definitely dry note in his voice.
"Yes," Meg said gently. "A desk lamp. It would throw a better light on to one's work than an overhead one does." She couldn't resist lifting earnest, guileless eyes to his to see how he took that and saw, to her annoyance, that there was just that same glint of amusement in his blue ones which she had surprised there once before.
Download


Copyright Disclaimer:
This site does not store any files on its server. We only index and link to content provided by other sites. Please contact the content providers to delete copyright contents if any and email us, we'll remove relevant links or contents immediately.