King of Kings by Unknown
Author:Unknown , Date: December 30, 2017 ,Views: 1047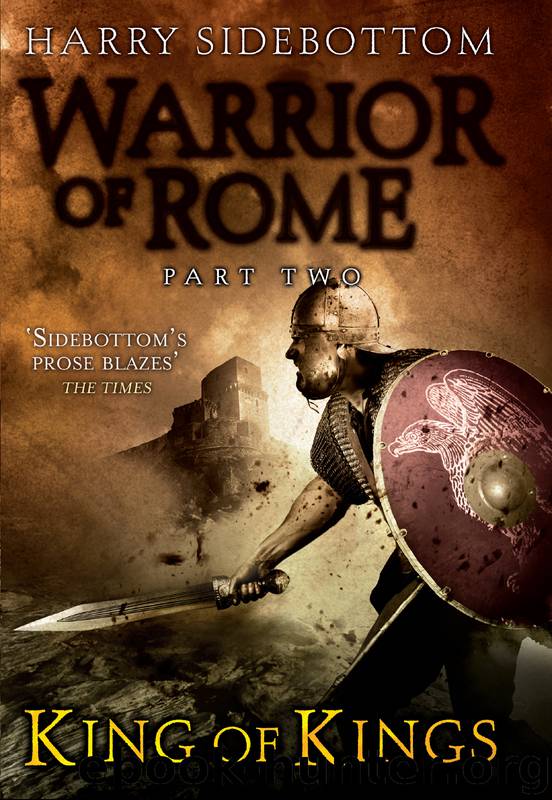 Author:Unknown
Language: eng
Format: epub, mobi
ISBN: 9780141943251
Publisher: Penguin Publishing
Published: 2009-07-17T04:00:00+00:00



XV
The theatre of Ephesus can be seen from miles out at sea. The Venus came out of the early morning mist and there it was, directly ahead, its marble cladding gleaming white, its geometrical simplicity drawing the eye from the architectural complexity that surrounded it.
It had been an unexceptional and unhurried voyage. As was the preferred way with oared warships, each night they had moored, for the crew to eat and sleep ashore. Only when crossing from mainland Syria to Cyprus, then later from that island to Rhodes, had they been forced to sail in cramped discomfort through the hours of darkness. They had lingered for several days in New Paphos, the provincial capital of Cyprus, and again in the decorous city of Rhodes.
Ballista was in no hurry to reach Ephesus. It was not that he had any grave doubts about the rightness of persecuting Christians. As Valerian had said, they were dangerous atheists, and their continued existence threatened Roman defeat in the coming war with the Sassanids. Ballista himself had found out that the members of the cult were not to be trusted. Yet it was not the same as a military command. To be a vicarius, deputizing for the governor of an unarmed province and chasing civilians, was a different matter entirely – no matter how vile and depraved the civilians, no matter how very deserving of persecution – from being a Dux on a wild frontier, commanding troops and facing a daring enemy in arms.
And there was what Julia had said. No matter how settled, how emotionally and financially capable, how ready one was, it took some getting used to the idea. Ballista wondered if he had the capacity to love another child as he loved Isangrim.
All in all, the northerner had been glad to be on the boat. It was a time out of time. Soothed by the ever repeated, hypnotic rhythms of life on a warship, he felt urgency, even responsibility itself, slip away. He was rather like a boy unexpectedly released from school.
Ballista had given out that their stay on Cyprus was in order to honour the senatorial governor – having taken his hospitality on the voyage east, it would be a terrible snub not to visit him on the return.
At least one member of Ballista's familia was delighted. All his young life Demetrius had wanted to see the ancient shrine of Aphrodite at Old Paphos. Although it was just down the coast from the seat of the Roman governor in the new city, the pressing urgency of their mission to Arete three years earlier – everyone continuously crying, 'No time to lose' – had prevented him up until now.
This time, Demetrius had had a whole day; more than enough time to ride there, study the antiquities, worship the goddess, consult her oracle, and return. Ballista had let himself be persuaded to go as well. Actually, the cloak of religion was welcome; the governor, although well meaning, was a crushing bore, much given to
Download


Copyright Disclaimer:
This site does not store any files on its server. We only index and link to content provided by other sites. Please contact the content providers to delete copyright contents if any and email us, we'll remove relevant links or contents immediately.