Jab, Jab, Jab, Right Hook by Gary Vaynerchuk
Author:Gary Vaynerchuk , Date: March 26, 2014 ,Views: 1367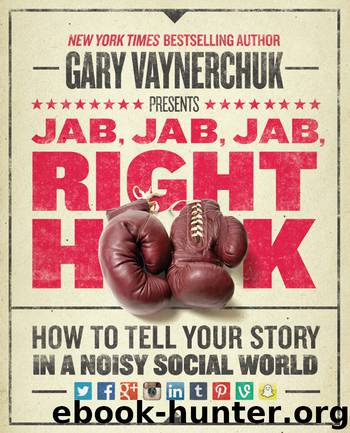 Author:Gary Vaynerchuk
Language: eng
Format: epub
Publisher: HarperCollins Publisher
Published: 2013-03-10T16:00:00+00:00



I liked that. It hit my emotional center. I decided to follow him, and he wound up in my Twitter stream, where my colleague Sam could see it. I'm not a big clubgoer, but Sam is. Maybe Sam decided to follow DJ Monte Carlo, too. And maybe, in six months, Sam will be scrolling through his Twitter feed and he'll see Monte Carlo throw a right hook announcing that he's spinning at a club in New York City that night. And maybe Sam will decide to go, too.
Get it? This is not a far-fetched scenario; it's how Twitter culture works every day. So get creative, have fun, and start experimenting with creating content on the spot, because the trending topics you see one minute will be gone the next. They have short life spans.
Something else to realize is that just because a topic is not one of the top-ten trends on Twitter doesn't mean it's not worth paying attention to. The Twitter demographic skews hip and urban, but it doesn't represent the only people talking online. You want to pay attention to what the rest of the world is interested in, too. Look for clues on Google trends. It skews young as well, just like all online data, but it reflects a broader population. During the 2013 U.S. Open golf tournament, the hashtag "#usopen" was, unsurprisingly, trending on Twitter. In response, KPMG Mickelson, the "official Twitter account for Phil Mickelson's hat," promoted a tweet to followers of the hashtag, suggesting that golf fans honor their dads on Father's Day by donating to a charitable anti-illiteracy campaign by buying a blue Phil Mickelson hat. KPMG Mickelson didn't actually use the hashtag "#usopen" (in fact, if they're not an official event sponsor, their legal department may not have let them use the hashtag) and yet, through strategic sponsoring, they came up as the top result for anyone checking that hashtag. They were smart about the hashtag they did use, too#—fathersday.*
This example shows that KPMG Mickelson did something too many businesses don't do on Twitter: They listened. It's extremely hard to create a trending hashtag and bring people to you. It's far better to listen, find out what's trending, and bring yourself to the people. In this case, golf fans were already having the conversation. Promoting the tweet ensured that KPMG Mickelson's message became part of that conversation. It was doubly smart to include it in the Father's Day stream, as well.
Download


Copyright Disclaimer:
This site does not store any files on its server. We only index and link to content provided by other sites. Please contact the content providers to delete copyright contents if any and email us, we'll remove relevant links or contents immediately.