How to Write & Give a Speech by Detz Joan
Author:Detz, Joan , Date: November 24, 2021 ,Views: 79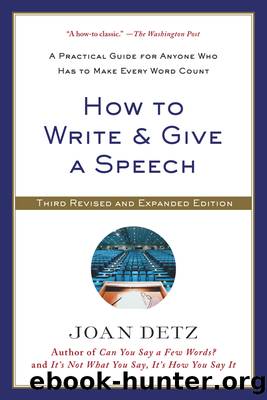 Author:Detz, Joan
Language: eng
Format: epub
Publisher: St. Martin's Press



DURING THE INTERVIEW
• Arrive early. Let's face it: TV studios can be downright overwhelming. The glaring lights, the high-tech cameras, the multiple monitors, the hustle and bustle of assistant producers, the technicians' jargon—all are potentially intimidating.
So, don't arrive at the last minute. Give yourself a chance to look around and get familiar with all the sights and sounds. Then, you can put these distractions aside and focus on the important thing: to give a good interview.
• Concentrate. Once the interview starts, you must give it your concentrated attention. Really listen to the interviewer's questions. Above all, listen for opportunities where you can reinforce your main points.
• Be clear. Don't hem and haw. Don't ramble. Don't filibuster. Open your answer with a simple statement ("That's right," "No, not really," "Absolutely," "That's a common misconception," "Yes, it's true."), then add the necessary details to support your case.
• Be human. Tell a personal story. Give a quick case history. Share a recent example. Use a lively quotation or a revealing anecdote. Tap into the emotions of the audience.
All of these techniques will help you come across as a believable, trustworthy, and caring individual.
• Be conversational. Leave your jargon back at your office. Keep your boring statistics locked in your briefcase.
• Be helpful. Try to approach the topic from the audience's perspective. Give examples they can relate to. Offer solutions they can put into practice.
• Be visual. Television is a visual medium. If you've got terrific video clips, or relevant documents, or startling photographs, or interesting objects, use them to your advantage.
• Use appropriate body language. Beware of "grand movements." Sure, they might look great when you're standing at the lectern on a big stage, but when you appear on a small TV screen in someone's bedroom, those same movements can make you look downright silly. Another caution: Avoid repeatedly nodding "yes" as your interviewer asks questions. Just listen—then let your response reflect your opinion.
• Take advantage of commercial breaks. Use this time to collect your thoughts, to do a mental rundown, and to make sure you're getting in your basic points. Ask the host what's next—and even suggest a specific area you'd like to discuss (politely, of course).
• Exude confidence. After all, if you don't have faith in your own expertise, why should the audience?
• Radiate charisma. Sincerity and charm sell—and nowhere do they sell better than on TV. Remember that, and you can't go too wrong.
Download


Copyright Disclaimer:
This site does not store any files on its server. We only index and link to content provided by other sites. Please contact the content providers to delete copyright contents if any and email us, we'll remove relevant links or contents immediately.