Golf is Not a Game of Perfect by Bob Rotella
Author:Bob Rotella , Date: December 23, 2017 ,Views: 909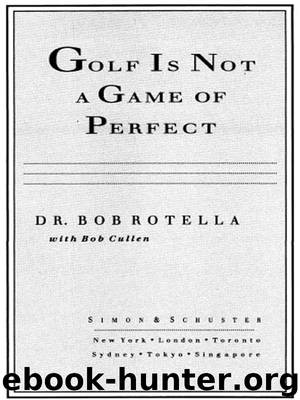 Author:Bob Rotella
Language: eng
Format: epub
Publisher: Simon & Schuster



ON THE TOUR, there are many factors conspiring to raise a player's expectations, to encourage him to demand perfection of himself. When this happens, the work ethic that brought a lot of players to the Tour can become a double-edged sword, driving an individual to grind himself down in a dogged, joyless attempt to meet those expectations. A successful player has to develop the ability to evaluate himself objectively, to work harder when he needs more practice, but to ease up when he's tempted to push too hard.
Scott Verplank won his first PGA tournament, the Western Open, while he was still an amateur. He expected that his golf could only get better once he finished school and could commit himself totally to golf, practicing as long as he wanted, playing all the time.
It didn't immediately work out that way for him. Performances that would have won or at least finished in the top ten in any amateur tournament didn't make the cut on the Tour. He perceived them as failures. He responded as most good athletes have been taught to do, by working harder. He practiced all the time. He practiced when he shouldn't have, when what he really needed and wanted to do was sit in his hotel room and read a book. And the hard work didn't show up in better results. Eventually, he found himself returning periodically to Oklahoma State and asking the football coach to let him help out with the running backs. It was the only way he could take his mind off golf.
Talking with him before the Buick Open one year, I emphasized the need for him to take it easy on himself. I told him it would be all right to stay in his room and read a book for a few hours instead of going to the practice tee all day. And I asked him to promise me that he would try to have fun.
I returned to Charlottesville to teach. On Thursday evening, I got a call from Scott.
"Gosh, Doc," he said, "I did it! I had fun all day long. And I'm leading! But what was really great was that I missed a five-footer on the first hole and I didn't let it get to me! Made a thirty-five-footer on the second hole."
"I bet you were invited into the press tent afterward," I said.
"Yeah, I was," he replied.
"And I bet that they asked whether Scott Verplank could win his first tournament as a professional."
"Yeah, that's all they talked about."
"Well, if you're not careful, they're going to have you thinking about the results you get instead of having fun. You might go out there fixed on shooting a certain number and keeping the lead and getting in position to win. You have to remember to throw away expectations, to just have fun and see what's the lowest score you can shoot. You have to attend to the process, not concern yourself with the results."
Of course, I would not be telling this story if it didn't have a happy ending.
Download


Copyright Disclaimer:
This site does not store any files on its server. We only index and link to content provided by other sites. Please contact the content providers to delete copyright contents if any and email us, we'll remove relevant links or contents immediately.