Generating Business Referrals …Without Asking: 5 Steps to Generate Business Referrals by Randall Stacey Brown
Author:Randall, Stacey Brown [Stacey Brown Randall] , Date: June 30, 2020 ,Views: 15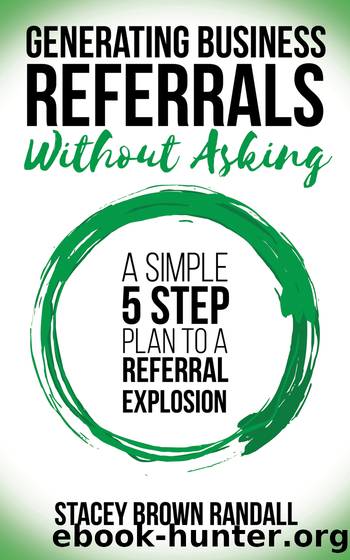 Author:Randall, Stacey Brown [Stacey Brown Randall]
Language: eng
Format: epub
Publisher: Morgan James Publishing
Published: 2019-06-14T16:00:00+00:00



2. You aren't referral-worthy.
To receive referrals, you must be worthy. Period. One of two things could be preventing you from receiving referrals: either you deliver sub-par work, or your work is just average. Let's look at what it means to deliver sub-par work. Maybe you don't deliver sub-par work every time, but often enough to impact what your clients think about you; this does impact your referability. Now, no one is going to get everything right and you will have issues. But what I am referring to is that you consistently do inferior work To receive referrals, you must be worthy. Period. (aka crappy work). Sorry. I know that isn't easy to hear. It may be because you haven't invested in the resources you need, or that you aren't effective and efficient with your time. Or you are overwhelmed and in over your head. Whatever the reason, you don't deliver the quality of work your clients need to incline them to talk about you and refer others to you.
Doing sub-par work is easy to understand as a reason you wouldn't receive referrals, but so is average work. And by average work I mean that you do a good job but the overall experience with you from a client's perspective is one of being choppy. Choppy meaning that sometimes you shine: you deliver the work on time, and you communicate well. But sometimes you clearly miss the mark: no communication, late work with no explanation or you don't take ownership when things don't go well. You let the process run you instead of you running the process. If your client views your performance as choppy, then they'll see your product or service as average. And average work doesn't make an impression, nor is it memorable.
Here's the connection you have to make. Let's say I want to refer you one of my friends, colleagues or clients. The reason I want to refer you is because I know someone I care about who has a need or problem, and I want to make sure they're taken care of. If they receive a great client experience from you and speak highly of you, then I know I was helpful to them. Meaning that I played a part in making a difference for them. Let's be honest, that makes me feel like a hero. But to be the hero I need for you to provide an exceptional client experience; I want my friend, client, or colleague to get the best experience from start to finish. Not average. So if their client experience with you is choppy, it doesn't make an impression and I'm not willing to put my reputation on the line and refer you someone I care about.
What does "choppy" mean? Here are some examples:
Download


Copyright Disclaimer:
This site does not store any files on its server. We only index and link to content provided by other sites. Please contact the content providers to delete copyright contents if any and email us, we'll remove relevant links or contents immediately.