Game Over: Jerry Sandusky, Penn State, and the Culture of Silence by Moushey Bill & Dvorchak Robert
Author:Moushey, Bill & Dvorchak, Robert [Moushey, Bill] , Date: May 5, 2016 ,Views: 519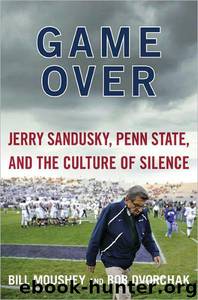 Author:Moushey, Bill & Dvorchak, Robert [Moushey, Bill]
Language: eng
Format: mobi
Tags: Sports
ISBN: 9780062201140
Publisher: HarperCollins
Published: 2012-04-17T16:56:01+00:00



Chapter 11
Insularity and Isolation
Penn State had a way of doing things in isolation. Nobody had to construct a symbolic Great Wall to separate Happy Valley from the outside world; nature built its own version in the form of Mount Nittany. The myth and folklore of Penn State, along with the insular thinking that went into the university's operations, did the rest.
Nittany is an Algonquin word that means "single mountain." The name was given to the geographic formation that sits at the southern end of two ridgelines of the Appalachian Mountains and rises one thousand feet above a verdant valley in central Pennsylvania. Various legends exist to explain how a formation of quartzite, shale, and sandstone become a mountain. In one popular story a young Native American woman named Nitta-nee taught the valley's inhabitants how to build a barrier against a cruel north wind that had destroyed their crops. After she died of a mysterious illness, the people honored her with a burial mound, which the Great Spirit transformed into Mount Nittany. In another story, a woman named Nit-A-Nee built a burial mound to honor her fallen lover, Lion's Paw. This mound of dirt and rock magically rose up to become the mountain overlooking the picturesque Nittany Valley. Both stories share a common ending: the mountain formed a barrier against the ill winds of the outside world, and the inhabitants who lived in its shadow would know only happiness. Thus was born Happy Valley. Unspoken was the reality that barriers are meaningless against inside threats. Insularity has the unintended consequence of locking in potential danger.
Joe Paterno openly embraced insularity, drawing a blue line around his football program. Unlike other big-time college football programs that have media availabilities daily, outsiders, including sports writers, had only limited access to the Penn State football world. Paterno's practices were closed to the media. He had one media availability a week during football season, conducted by conference call, when reporters were allowed to ask one question each. Interviews with players were arranged through the Sports Information Department. Freshmen were not allowed in front of microphones. On game days the Penn State locker room was closed. Writers could get postgame quotes from Paterno in an interview room inside Beaver Stadium, or take a one-mile bus ride to the Lasch Building to ask questions of players, if they were made available.
Paterno was unapologetic about sealing off his world, even though it sometimes resulted in reprimands. Two examples of insular thinking occurred at the 2009 Rose Bowl in Pasadena, California, where Penn State lost to the University of Southern California 38–24. Paterno was under contractual obligation to give a pregame sideline interview to ABC-TV, which had exclusive rights to televise the game, but he failed to show up as promised. His excuse was that because he had undergone hip-replacement surgery five weeks earlier, he had to get to his seat in the press box from where he was going to coach the game and was unavailable on the sidelines.
Download


Copyright Disclaimer:
This site does not store any files on its server. We only index and link to content provided by other sites. Please contact the content providers to delete copyright contents if any and email us, we'll remove relevant links or contents immediately.