Game On: A Sports Romance Box Set by Allie Everhart
Author:Allie Everhart [Everhart, Allie] , Date: November 23, 2020 ,Views: 10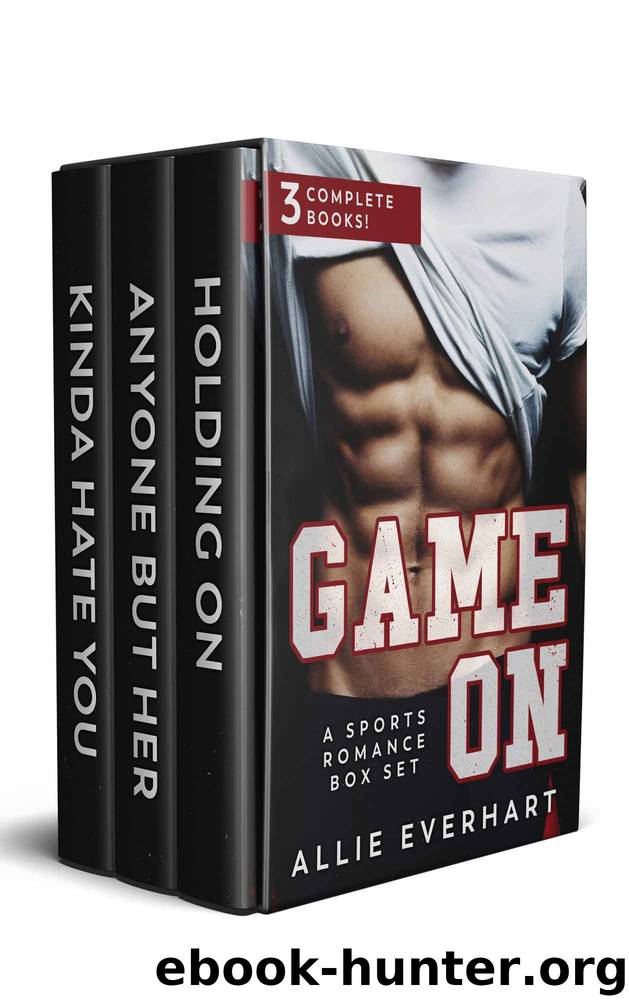 Author:Allie Everhart [Everhart, Allie]
Language: eng
Format: azw3
Published: 2020-09-19T16:00:00+00:00



Chapter Fourteen
Taylor
"I'll be there in a minute," I yell over the staircase to Birdie.
She just got here. I'm taking her to dinner to make up for cancelling on her three nights in a row. It's my new conditioning coach's fault. He's been making me work out with him at the gym every night but I finally told him I need a night off. I want to improve my golf game but I also want a social life. It's summer. I want to have at least a little fun.
Luke and I have been avoiding each other since the other night when Cal almost caught us kissing. The next day I told Luke we couldn't take risks like that at the house. We'd have to meet somewhere private. So far we haven't done that but we text each other all the time.
Like right now. A text pops up from Katy, which is the fake name I assigned to Luke's number in case anyone in my family ever saw my phone when Luke was texting me.
I miss you, he texts.
I miss him too. The past few days he hasn't been around to eat meals with us. He's been too busy playing golf and working on his swing, preparing for the tournament next week.
"Okay, I'm ready." I hurry down the stairs and see Birdie standing in the living room looking at her phone. She's wearing a cute white sundress and wedge sandals. She has a much curvier figure than I do so she looks better in clothes than me. I like my lean athletic body but sometimes I wish I had more curves and more of a bust like Birdie.
"Just a minute." She smiles as she types something into her phone.
"Who are you texting?"
"Liam. The guy I met at work the other day."
Birdie works at a coffeehouse near her soon-to-be college. She recently decided to transfer to Arizona State so she could save money by living at home. It's the same college Cal goes to but it's so huge I doubt they'll ever see each other.
"That's a stupid name," I hear Cal say. He walks into the living room holding a bowl of ice cream and sits down on the couch.
"What's a stupid name?" I ask.
"Liam," he mutters. "It's stupid."
Birdie whips around to face him. "And Cal is so much better?" She rolls her eyes. "Liam is unique. Sophisticated. So much cooler than Cal."
"You're actually dating that idiot?" Cal asks before shoving a big spoonful of ice cream in his mouth.
"Not that it's any of your business, but yes. And he's not an idiot. He's very smart. And refined. He asked me to go to the opera on Sunday."
"The opera?" Cal chokes on his ice cream and spits some of it back in his bowl.
"You're so disgusting," Birdie says, shaking her head.
Cal wipes ice cream off the side of his lip. "You actually told this guy you'd go to the opera?"
"Of course I'm going. Why wouldn't I?"
"Well, for one, you're more of a monster truck show girl.
Download


Copyright Disclaimer:
This site does not store any files on its server. We only index and link to content provided by other sites. Please contact the content providers to delete copyright contents if any and email us, we'll remove relevant links or contents immediately.