Doctor Who PDA19 - The Wages of Sin (3rd) by David A. McIntee
Author:David A. McIntee [McIntee, David A.] , Date: October 7, 2020 ,Views: 8348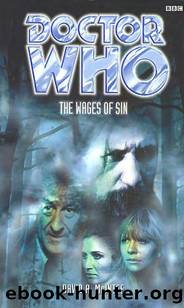 Author:David A. McIntee [McIntee, David A.]
Language: eng
Format: epub
Published: 2011-07-13T02:42:39+00:00



'And we know that doesn't happen. Just like the Daleks don't invade Earth in the twenty-second cent–'
The Doctor cut her off. 'That's different, Jo. In many ways that was simply a theoretical abstraction made real by a temporal anomaly.'
Jo threw up her arms. 'You know I can't answer back to your gobbledegook, Doctor. But you saw the strikers and protesters in the city. There's just as likely to be a Revolution even if Rasputin doesn't die.'
'Very probably. The web of time is quite resilient, but you can be sure that there would be some kind of unexpected side-effects to any changes you tried to make. And in my experience, unexpected side effects are never positive, Jo.
Never.'
Kit had slipped quietly into the Winter Palace to see the Doctor. Security was supposed to be tight here, but with the Romanovs away, and so many wounded in the palace, Kit had found that the occasional bottle of malt Scotch opened most doors in St Petersburg.
'Ah, there you are,' the Doctor said, as Kit met him on the main staircase. He must have been about to go out. 'I was just about to go and look for you.'
Kit nodded. 'I wanted to talk to you too, Doctor. I just had a rather interesting conversation with Vasiliyev.'
'Interesting? In what way?'
'He had a note, which Kuznetzov gave him as evidence that Rasputin is a German spy. He says it's evidence that Rasputin murdered a man called Morovich, who knew his secret.'
'But you don't believe this alleged evidence?'
'No.' Kit grimaced. 'Rasputin was nowhere near when that man died – I know because I was there. He was spying on me when I met a contact at the Volkhov rostral. We heard him move, and he fled. We followed him up to the platform at the top, since we certainly wanted to know who it was and what he had learned. When we got there, he had climbed over the rail. I think he meant to jump down in stages, from prow to prow – there are several set into the column – but missed. I made a grab for his hand as he slipped, but...'
The Doctor regarded him curiously. 'You mean the man hadn't been hypnotised by Rasputin into jumping?'
'No! I mean, I wouldn't put it past Rasputin to do such a thing, but no. The man was simply terrified of being caught by us. I imagine he thought we would have killed him.'
'Would you?'
Kit grimaced. 'I wouldn't, no, though I couldn't swear the same for my contact. I'd have rather offered him money to keep his mouth shut.'
'Good. Systems of rewards are always better than punishments. And speaking of rewards, I found out something else about our friend Kuznetzov. He has several million roubles hidden in his apartment, and someone placed a key to a case in our suite. I haven't found the case it fits yet, but I've no doubt that there's one somewhere – no doubt in case he needs evidence of my "crimes".'
'Was
Download


Copyright Disclaimer:
This site does not store any files on its server. We only index and link to content provided by other sites. Please contact the content providers to delete copyright contents if any and email us, we'll remove relevant links or contents immediately.