Doctor Who MA05 - State Of Change by Christopher Bulis
Author:Christopher Bulis [Bulis, Christopher] , Date: October 7, 2020 ,Views: 8357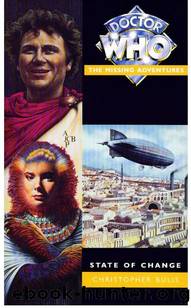 Author:Christopher Bulis [Bulis, Christopher]
Language: eng
Format: epub
Published: 2011-07-13T02:21:08+00:00



'Morale fell low, yet these were the best men of the legion, and they did not admit defeat. Rufinus rallied them wonderfully. I could not have continued without him. But then, I should not have tried.
Agricola was close to breaking point, but would not admit it. With him it had become a trial of his will against his fear of admitting fear.
Having come so far, he dare not fail now What would his parents think if he gave up? he would say, with forced humour. I, too, was fearful by then, but even less could I admit it. We had encountered no true enemy, you see, just the creatures and the inhospitable country.
We had suffered losses, yes, but no more, compared to our numbers, than in many an ultimately successful campaign. Fear of the unknown was our greatest enemy, and we would never admit defeat to that cause. While we had the means, we would press on. Besides, I was still determined that there should be some single reason I could discover to explain these changes ... and, I admit, there was the thought that I might, by perseverance, find a new route to the East, and triumphantly restore trade once more. Such is pride.
'But our boats could go no further, though the river remained, if just barely, navigable. Without trees, our stock of fuel was running low. They would have to return to better country to replenish their supplies, or wait for more to be sent up river after us. Any further travel would have to be on foot.
'But it seemed to me by then, that we might be indeed that close to a final end to our journey. As if this land had not already faced us with sufficient puzzles, two more were added.
'Firstly, the air seemed to be growing steadily thinner, as it does on high mountain sides, breathing was becoming difficult after any strenuous task, and it had got markedly colder. But the ground appeared to rise only gently, with true mountains still in the distance.
Strangely, we had, the day before, passed through a turbulent belt of mist or fog, which, looking back, now seemed to resemble the tops of clouds as seen from a mountain peak, as though they were below us
— except that we were not on a mountain. And the flow of the river had increased, as though it were running down a significant slope, which, by the eye, was not visible. But by observing how those around me were standing, and the hang of a plumb line, I decided there was indeed a slope which seemed to run contrary to the entire lie of the land. Was this part of the solution? Had there been a vast upheaval of the earth in this land, as the tremors suggested, which had raised entire mountain ranges bodily and tilted the plains at their feet?
'This, however, did not explain the change in the horizon, or that in the sun.
'I was already then familiar with the
Download


Copyright Disclaimer:
This site does not store any files on its server. We only index and link to content provided by other sites. Please contact the content providers to delete copyright contents if any and email us, we'll remove relevant links or contents immediately.