Darkside Sun by Jocelyn Adams
Author:Jocelyn Adams [Adams, Jocelyn] , Date: June 3, 2021 ,Views: 29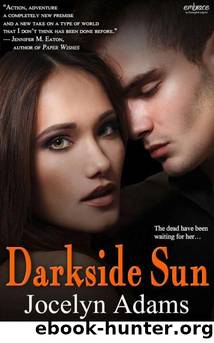 Author:Jocelyn Adams [Adams, Jocelyn]
Language: eng
Format: epub
Tags: Fiction, Contemporary Women, Romance, New Adult, Paranormal, Coming of Age, Contemporary, General
ISBN: 9781682811160
Google: frLcAgAAQBAJ
Amazon: 1682811166
Publisher: Macmillan
Published: 2014-03-09T16:00:00+00:00



Chapter 19
I floated in a sea of white stars against a dim background, like phantoms flitting through my own private night. Blinking in the dimness, I identified the surroundings to be my gray room at the facility. What just happened? Oh, right. Asher had put his hands on me.
"What happened to the no-touchy rule?" I asked.
"It was necessary and didn't last long enough to damage." Asher gripped the door knob, shaking. Slowly, he composed himself, flattening out his shoulders, unhinging his jaw, as he slid some balm over his lips. He'd told me he spent a lot of time in the cold. I hadn't gotten that at first, but now that I knew what he hunted, it made more sense.
One limb at a time, he stretched and stilled, as if rebuilding himself from the mind and soul out. "I should never have agreed to you seeing your father, or letting you cop a feel of me. You will never endanger us again, Initiate," he said with all the heart of a dead fish. I preferred "Plaid" to "Initiate."
"What are you talking about?" I asked, afraid I knew already. "If you mean I can never see Dad again, then I can't accept that. I can only promise not to go until I learn how to do what you can do, meet him some place away from the house, some place different every time. I'll work hard, and I'll go back to making a life for myself."
"You have no choice but to accept it." Rubbing his hands against the sides of his jeans, he turned away. What was he wiping off? Me?
His words finally melted into my brain, that I had no choice, as in literally. I drew in a breath, held it for a second. "Oh, God, Asher, what did you do?"
"Sensei."
"Fine, sensei, whatever. What do you mean I'll have no choice?" I climbed to my feet on unsteady legs, holding the block wall for support. "You can't keep me from him. He's my life, my only reason for being. You've been watching me, so you know what he means to me. If you say it's forever then you might as well kill me now. I'll find a way back to him once I'm ready. You can't keep me here forever."
He propped a palm against the wall, his body all graceful lines and arrogance. Just see which one of us is smarter, his posture said. "What's the name of your hometown?"
It seemed a ridiculous question, but when I opened my mouth, nothing came out. I ran through the halls of my memory, unable to come up with it. Blank and blurry, everything that surrounded my childhood had vanished into thick white fog, only emotions and Dad's face flitting out of the blankness.
"Good," Asher said. "Now tell me your father's name."
Dad … no, he had a name. That, too, had been lost in the nothing Asher had created in my head. Without the name of my hometown, or at least an image of it, I couldn't make the Shift take me there.
Download


Copyright Disclaimer:
This site does not store any files on its server. We only index and link to content provided by other sites. Please contact the content providers to delete copyright contents if any and email us, we'll remove relevant links or contents immediately.