Daddy's Little Miracle by Lila Fox
Author:Lila Fox [Fox, Lila] , Date: May 26, 2023 ,Views: 26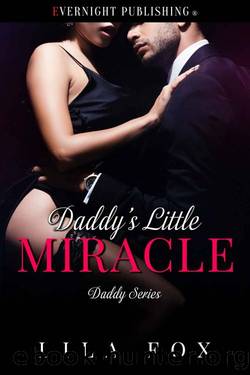 Author:Lila Fox [Fox, Lila]
Language: eng
Format: epub
Publisher: Evernight Publishing
Published: 2022-03-07T18:30:00+00:00



Chapter Seven
A week later, Larkin looked out her bedroom window at Brylee's around midnight because she couldn't sleep. She caught movement at the pool and froze when she saw Gage and Brylee.
He was standing in the water and had her laid out on the concrete with her legs over his shoulders, and it looked like he was feasting on her. Brylee was squirming on the side of the pool, and Larkin could practically hear her crying out.
God, she missed that. The closeness she felt with another human being. But in the last few days, she had to come to grips with the fact she was alone and would always be alone because she wasn't going to give herself to another man as she'd done with Darian.
In the days she'd been at Brylee's, she hadn't heard anything from him. She thought he cared enough to try at least to talk to her.
Gage lifted Brylee down into the water, and if she was reading the scene right, he impaled her with his cock. Brylee's head tipped up like she was screaming, and her arms circled his neck.
Larkin knew she should look away. That she was invading their privacy, but they both looked so beautiful together.
Larkin was surprised to feel tears on her face. She hadn't known she was crying, but she'd done that at least once a day since she'd been there.
After watching the scene by the pool, she knew she would never be the same, and it would take a while to make a new norm. Being in the house with them and seeing them with each other was incredibly painful. She needed to make her plans to leave, and the sooner, the better. Her stitches had come out that earlier day, so she didn't have to worry about that.
Larkin needed to get some of her things and wanted to have the money she saved and her clothes to start a new life. She'd only take what she'd brought with her when she went to live with him.
She planned to call an Uber tomorrow and have them stop at the house and then take her to the bus station and let fate decide where she went.
With a plan in mind, she was able to close her eyes finally.
When she woke up with a headache and a wet pillow, she knew her decision to leave was for the best.
She showered, dressed, and gathered the few things in a shopping bag Brylee had got her. She was ready to go when Brylee knocked on her door like she did every morning so they could go down and eat breakfast together.
"Hey, hun." Brylee's eyes widened when she saw the bag on the bed. "What's that?"
"I'm leaving today."
"What? No. We haven't talked about anything yet."
"I'm actually going to let fate decide where I end up."
"What does that mean?" Brylee asked.
"I'll get on the first bus that's leaving the station."
"Larkin, you can't do that."
"I'm going to. I have some money saved because I won't use his." God, it hurt even to say his name.
Download


Copyright Disclaimer:
This site does not store any files on its server. We only index and link to content provided by other sites. Please contact the content providers to delete copyright contents if any and email us, we'll remove relevant links or contents immediately.