Crab by Cynthia Chris
Author:Cynthia Chris , Date: June 11, 2021 ,Views: 29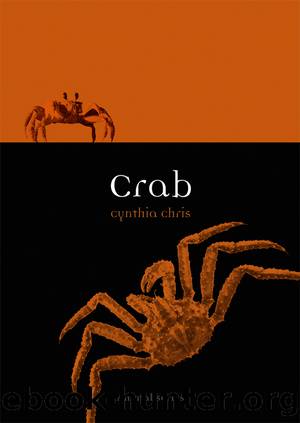 Author:Cynthia Chris
Language: eng
Format: epub
Publisher: Reaktion Books



Lybia leptochelis, holding a pair of sea anemones.
Writing in 1880, Karl Mobius and his colleagues noted the unusual behaviour of anemone-carrying when describing Melia (now Lybia) tessellata specimens from the Indian and Pacific Oceans. They characterized the relationship between the boxer crabs and the anemones (referred to as 'actinians') as an example of commensalism. In contemporary usage, commensalism indicates a relationship beneficial to one species and neutral to another. But he described an arrangement of mutual benefit: the crab allows the anemone to gather food, then uses a walking leg to take the food away from his passenger and deliver it to his own mouth. Meanwhile, the anemone takes a ride to new food sources that it would not be able to reach if attached to a rock or empty shell.9 Even so, the boxer might get more out of the arrangement than the anemone. During a research trip to the Hawaiian Islands in 1905, James Edwin Duerden of Rhodes University College in Grahamstown (now Makhanda, South Africa) observed that the crab directs the anemones towards any perceived threat. They make fine defensive weapons, given that their tentacles sport the stinging cells known as cnidocytes or nematocysts.
Duerden collected some of these Hawaiian boxer crabs – Melia tessellate – and their anemones, to try to learn more about their relationships. The crabs were very reluctant to give up their anemones, but Duerden saw that if offered a larger anemone, a crab might let go of a smaller anemone and take the larger as its pompom instead. He identified the anemones that the boxers carry as members of the genera Bunodeopsis or Sagartia, or in some cases, one of each. When he pried one away from a crab, leaving her chela empty, he found that within fifteen minutes she would 'tear a single actinian in two in order to provide each claw with a polyp'.10
That the crab literally forces one anemone to become two is remarkable. Tear many other creatures in half and you've got two pieces of a dead animal. But anemones belong to the phylum Cnidaria, which also includes jellyfish, coral and sea fans, which can generally reproduce either sexually or asexually. While Duerden was aware of the behaviour over a hundred years ago, an in-depth study seems to have occurred only in the twenty-first century. Yisrael Schnytzer collected Lybia leptochelis on beaches in Eliat, Israel, at the northernmost tip of the Gulf of Aqaba, which juts like a rabbit's ear off the Red Sea. While L. tessellata is often said to have the appearance of stained glass, L. leptochelis looks more like a ragged crumb of fried tempura batter.11 Collecting them was no small task. Besides being tiny, Schnytzer has reported that they are incredibly difficult to spot and scurry with startling speed if a rock they are hiding under is moved. Their elusiveness may contribute to the relative dearth of scientific writing about these creatures.12
All the crabs, including juveniles, held anemones – believed to be an unidentified species in the genus Alicia – in each chela.
Download


Copyright Disclaimer:
This site does not store any files on its server. We only index and link to content provided by other sites. Please contact the content providers to delete copyright contents if any and email us, we'll remove relevant links or contents immediately.