Contagious by Jonah Berger
Author:Jonah Berger , Date: July 4, 2020 ,Views: 422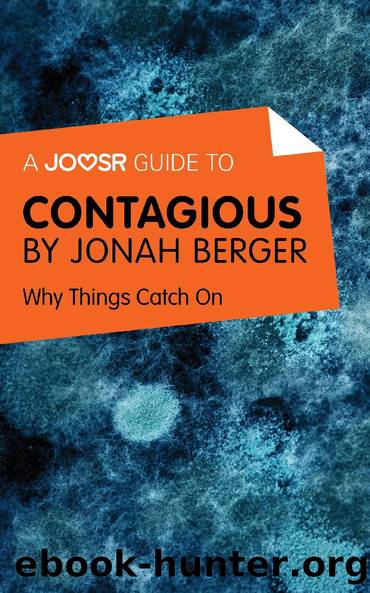 Author:Jonah Berger
Language: eng
Format: epub, mobi
Publisher: Joosr Ltd



Stories are powerful—use them as a vessel for getting your message across
Storytelling is an ancient tool for sharing information across social groups and geographical spaces. By wrapping your message in a story, you can help it to circulate more easily. That's because stories are structured into a beginning, middle, and end, and this structure can act as a hook, attaching your message to people's minds. Stories are therefore brilliant vessels for passing on ideas and information—think of them as Trojan horses that can be used to carry the secret weapon of your message.
A good example is the annual John Lewis festive campaign in the UK. John Lewis is a British department store chain, whose Christmas TV adverts have become national institutions. Every year, their commercials tell an enchanting Christmas story in a way that is funny, poignant, and uplifting. The message is always the same—Christmas is a special time to bond with loved ones through the joy of gift giving. The adverts cleverly promote the John Lewis shopping experience by wrapping an annual promotion of its stores into genuinely emotive, memorable storytelling. This ensures that the ads become viral every single year: they are widely shared across social media and become "office watercooler" talking points. All because John Lewis understands that an emotive story is much more powerful than a traditional Christmas commercial displaying the annual gift selection on offer.
However, if you're going to use storytelling (whether fictional or true) to make an impact, it's crucial to ensure that your message is central to the narrative—you don't want to fall into the trap of having people share the story, but omitting to mention your actual product or promotion. Make it impossible for people to separate the two things (John Lewis do this very well by elegantly weaving in images of their stores or items from their gift selection into their ads).
Remember: stories are highly shareable, as they have a predictable three-part structure that is immediately recognizable to everyone, and they also have the ability to provoke emotional responses. By placing your message into the container of a story you will greatly empower it, ensuring that it is understood, remembered, and, above all, shared.
Download


Copyright Disclaimer:
This site does not store any files on its server. We only index and link to content provided by other sites. Please contact the content providers to delete copyright contents if any and email us, we'll remove relevant links or contents immediately.