Closing the Equity Gap by Freada Kapor Klein
Author:Freada Kapor Klein , Date: March 17, 2023 ,Views: 71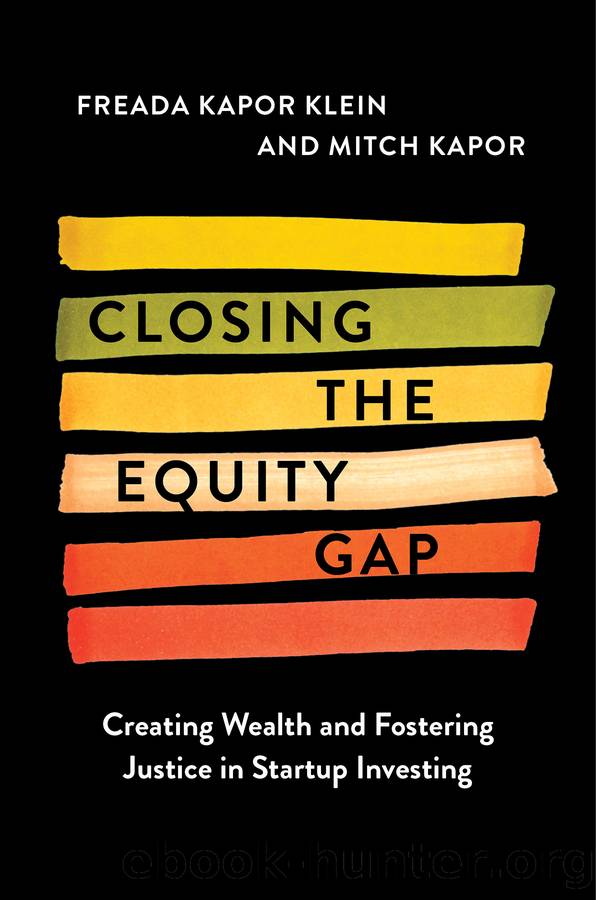 Author:Freada Kapor Klein
Language: eng
Format: epub
Publisher: HarperCollins
Published: 2023-03-14T00:00:00+00:00



A Kinder Approach
Mitch learned about mental wellness before he even entered tech, working as a counselor in the psychiatric unit of a community hospital. It was a place where people who had long-term, serious psychiatric issues could come to keep themselves from boiling over. In the best cases, they would get calmed down and put back together so they could go out and function again. But for others, it was just a revolving door. A key takeaway was that until we understand the roots of mental illness well enough to develop cures, we have to employ a multifaceted approach to support individuals with mental health challenges.
Here's our approach: invest in mental wellness, lead by example, and be truly founder friendly.
At Kapor Center, we've expanded health benefits and encourage time off. Our staff are paid to volunteer with underrepresented communities, especially in organizations that are meaningful in their own lives. And we offer assistance for student loan repayment. Student debt can be crushing; it is one of the starkest differences between the circumstances of privileged kids and kids from low-income backgrounds entering the workforce. The debt keeps them from helping their families, joining their colleagues eating out or going on trips, or saving to buy a house and is a constant source of stress. Mental health care is available 24/7, and dogs are usually around, offering a friendly, low-stakes snuggle. We encourage founders to seek therapy and executive coaching before the excitement becomes anxiety. And we listen. Our go-to conversation opener can open a floodgate: "What's keeping you up at night?"
When founders pitch tech startups to support mental wellness, we pay attention. Karan Singh came to us in 2011 and said a friend's suicide had sparked his commitment to changing the way mental health care is provided around the world. He named his company Ginger because, when he was a child, his mother brewed him ginger tea when she felt he might be getting sick. He wanted mental health providers to look like the people they serve. We invested. Over ten years, the company went from an idea to a powerhouse, with more than five hundred companies paying Ginger to provide their employees emotional support. Coaches, therapists, and psychiatrists are available via text 24/7. During the pandemic, Ginger became an essential support, seeing revenues triple as stress levels soared and people were told to stay home. By 2022, the company had received more than $200 million in investments, and over 10 million people in over forty countries were accessing support through their phone. Singh is also accomplishing Ginger's equity and inclusion mission: half of Ginger's coaches, therapists, and psychiatrists identify as people of color, more than three times the proportion found in the membership of the American Psychological Association. In fall of 2021, Ginger closed a merger with Headspace, an online meditation, sleep, and wellness company, creating a $3 billion mental health company.
We also appreciate that during the pitch process, founders' stress levels have never been higher. They've quit their jobs,
Download


Copyright Disclaimer:
This site does not store any files on its server. We only index and link to content provided by other sites. Please contact the content providers to delete copyright contents if any and email us, we'll remove relevant links or contents immediately.