China's Korean Minority: The Politics of Ethnic Education by Chae-jin Lee
Author:Chae-jin Lee [Lee, Chae-jin] , Date: August 6, 2022 ,Views: 6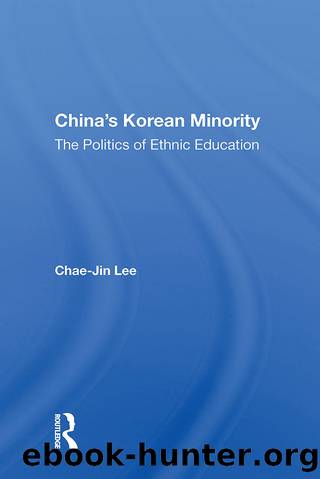 Author:Chae-jin Lee [Lee, Chae-jin]
Language: eng
Format: epub
Tags: Social Science, Political Science, World, Asian, Regional Studies
ISBN: 9780429711824
Google: Nrw-EAAAQBAJ
Goodreads: 58840388
Publisher: Routledge
Published: 2021-11-28T00:00:00+00:00



Cultural Revolution
The Cultural Revolution, which threatened the basic premises of China's minority policy altogether, had a devastating impact upon minority education everywhere in China. The impact was particularly severe in Yanbian because the political and ideological struggles among Koreans were extremely ferocious and brutal. The established Korean leadership long headed by Chu Tok-hae was completely deposed; like Ulanhu in Inner Mongolia, Chu was accused of being a representative of "China's Khrushchev" (Liu Shaoqi) and of protecting his "independent kingdom." His earlier studies in the Soviet Union and his visits to North Korea were cited to "prove" that he was a foreign spy; his "treason" was publicly denounced. Furthermore, he was accused of having proposed to the Chinese government that China offer substantial territorial concessions over the Chonji (Heavenly Lake) to Kim Il-song. Directed by Mao Yuanxin (Mao Zedong's nephew and a close associate of Jiang Qing), who moved from the Harbin Military Engineering College with his followers to Yanji in January 1967, a group of young Korean radicals led by Choe Hae-ryong (Cui Hailong, a local militia leader in Hunchun) joined Han Chinese Red Guards in faithfully executing the Cultural Revolution directives in Yanbian. They attacked Yanbian University as a "black bastion of the Chu Tok-hae local nationalism" and physically persecuted Li Hwi-il (Li Xiyi; Yanbian University CCP Secretary) and other professors as stooges of Chu Tok-hae.21 Anti-Chu wall posters and Red Guard publications were rampant on campus.
A recent book on Yanbian (1982) reveals the gruesome magnitude of human sacrifice during the Cultural Revolution--about 4,000 persons died due to persecution, about 5,000 were wounded, and several tens of thousands were imprisoned, isolated, or investigated.22 In the midst of factional struggles in Yanbian, some Koreans crossed the Tumen River and fled to North Korea. Moreover, the border areas were politically strained because the Red Guard publications assailed Kim Il-song as a "fat revisionist." Premier Zhou Enlai dispatched Song Rengiong (Alternate Member of the Political Bureau and Political Commissar of the Shenyang Military Region) to Yanbian to save Chu from the rampaging Red Guards in September 1966 and recalled Chu to Beijing for his personal safety in April 1967; transferred to a Hubei commune in October 1969, he died in July 1972 at the age of 61.23 (In May 1978 the Jilin Provincial Committee of the Chinese Communist Party decided to restore Chu's honor posthumously.)
At the height of the Cultural Revolution the Shenyang Military Region Command placed Yanbian under martial law; Mao Yuanxin himself became the Region's Political Commissar. As Mao's protege, Choe Hae-ryong took over the Yanbian Revolutionary Committee; he was elected to the 9th CCP Central Committee as an Alternate Member in 1969 and to the 10th CCP Central Committee as a Regular Member in 1973. In 1975 he was a member of the Standing Committee of the National People's Congress and a Political Commissar of the Jilin Military District; after the fall of the "Gang of Four" and Mao Yuanxin, Choe was stripped of all public positions in 1977. He lost the CCP membership as well.
Download


Copyright Disclaimer:
This site does not store any files on its server. We only index and link to content provided by other sites. Please contact the content providers to delete copyright contents if any and email us, we'll remove relevant links or contents immediately.