Cave and Cosmos by Michael Harner
Author:Michael Harner , Date: July 25, 2020 ,Views: 172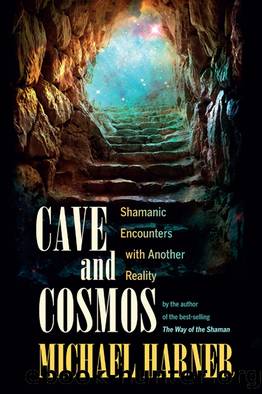 Author:Michael Harner
Language: eng
Format: azw3, epub
ISBN: 9781583945643
Publisher: North Atlantic Books
Published: 2013-04-09T00:00:00+00:00



JESUS CHRIST
Ascending to the Upper World, one can interact directly with gods and goddesses that others only learn about through stories. This visitor did not know in advance that a divine figure would be her teacher, and she had prepared this worldly question: "What am I going to do as the next step in my moneymaking career?" This is probably not a question that many would think of as appropriate to ask Jesus, but he, as a spirit teacher, had the choice of making himself available. As she found out, he was not only available, but he also provided a symbolic answer.
Shamans have learned from firsthand experience that the teachers in the Upper World do not mind being "bothered." Indeed, they are too powerful to be capable of being "bothered." Shamans also know that any question that is important to them will normally be responded to by the teacher.
As the drumming began I found myself running up a familiar mountain path that I know in ordinary reality. I continued running as my feet lifted off the ground, running through the sky, running up a type of ladder. Higher and higher I ran, up into the clouds, passing the barrier to the Upper World. I saw a pasture with a shepherd, but he was not my teacher.
I climbed onto the back of a large black bird I met and flew higher still with him. We flew through a waterfall into a meadow. Jesus Christ came walking across the meadow to greet me; he indicated that he was my teacher.
Jesus was playing with a red apple that he held in his hands. I began to bow before him, to sit at his feet, but he told me to stop, that I was as much a teacher as he.
I asked him my question, "What am I going to do as the next step in my moneymaking career?"
He answered, "Trust."
I wondered what he was doing with this apple in his hands, if he was going to eat it or what. He surrounded my body with a bubble of soft green light, a type of healing, a protective shield, that washed over me. The sky began to become a wash of brilliant colors: pinks, blues, greens.
I looked deeply into his eyes, and my heart sang with joy. It was so intense a feeling that I began to cry. He began to float up into the sky, again telling me to trust, as he disappeared.
In the sky I saw an image of a ram's head, then images of knights riding across the sky. A wave of golden color began to flow across the meadow, changing all the grass to gold. As it reached me I flew with it, changing everything I flew over to a beautiful gold color. Then I sat again in the meadow, playing with sending bursts of color out into the sky until it was time to return.8
Download


Copyright Disclaimer:
This site does not store any files on its server. We only index and link to content provided by other sites. Please contact the content providers to delete copyright contents if any and email us, we'll remove relevant links or contents immediately.