Baffled by Love by Laurie Kahn
Author:Laurie Kahn , Date: January 3, 2018 ,Views: 523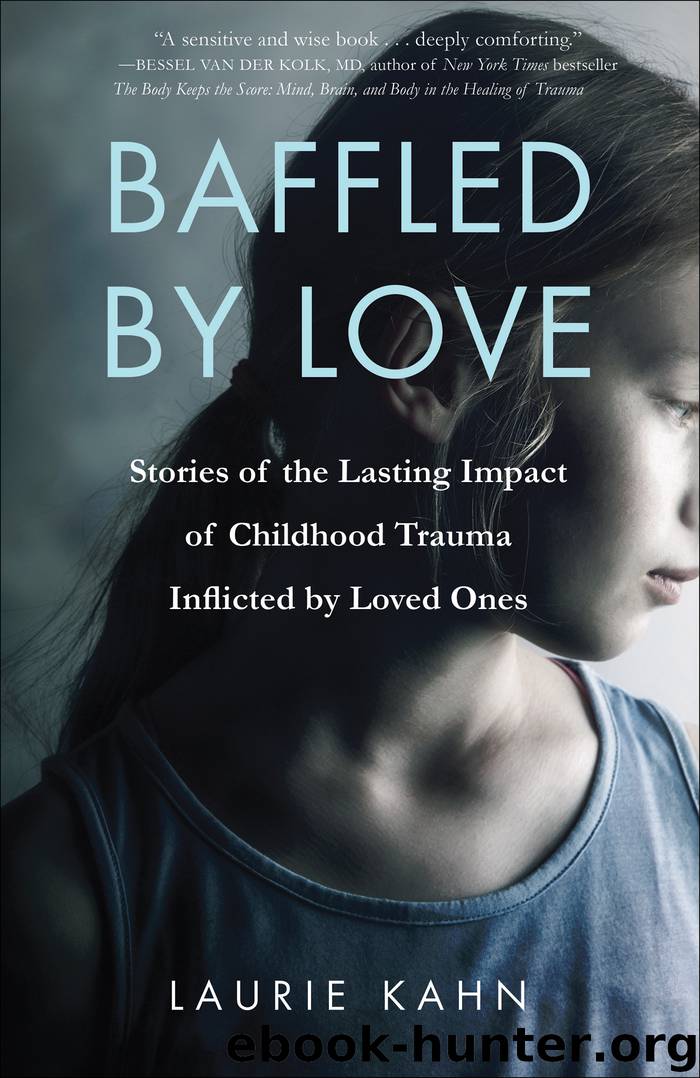 Author:Laurie Kahn
Language: eng
Format: epub
Publisher: She Writes Press
Published: 2017-01-03T05:00:00+00:00



Chapter 21: MEETING NATALIE
After my parents' divorce, after the uninvited, flat-chested woman married my father, after I lived through a paralyzing depression, after the therapist who stared at me and gave me pills that made me sleepy, I met Natalie.
Or rather, my best friend Allie introduced us. Allie had wild, curly brown hair. She was funny and adventurous and smoked cigarettes. I was more restrained and cautious. Her moods registered on the manic side of the continuum, while mine hovered on the depressive side. But we were both seekers in our mid-twenties.
"There's this place where these two cool, famous therapists run a free therapy group every Monday," Allie said. "Let's go!"
About forty-five minutes north of Chicago, we found the sign—HAIMOWOODS—written in permanent marker on a piece of wood nailed to a tree. We slowly drove up the tree-lined dirt path, pebbles crackling under our tires, until we reached a concrete building with a bell tower that looked like an abandoned school or convent.
Inside, people milled around an oversized coffee pot and nibbled on something that resembled coffee cake. A thin woman in a simple skirt and an unremarkable blouse with coarse, curly hair untouched by a hairdresser greeted Allie and me. "I'm Natalie," she said. "Welcome." Her welcome felt more like one for treasured guests than for two hippies the wind had blown in from Chicago.
"We meet in there." Natalie pointed to the room down the hall.
Natalie had gotten her PhD from the University of Chicago, where she was a student of Carl Rogers, the founder of client-centered therapy. After graduating, she had become a student of Eric Berne, MD, the founder of transactional analysis, a social psychology that focuses on interactions between people as the key to unlocking and resolving psychological problems.
Berne was trained in traditional psychoanalysis. In 1957, after fifteen years of training, he was denied a position as a psychoanalyst at the San Francisco Psychoanalytic Institute. Within a year, he had written two seminal papers challenging Freudian psychoanalysis's basic premises and highlighting the value of interpersonal interactions over the mysteries of the unconscious. He, like many of us who were attracted to transactional analysis, was quirky, smart, and rebellious.
Berne was dedicated to creating a system of thought that demystified therapy and psychopathology. He invited his patients from the hospital psychiatric ward to hear his students present cases. He insisted that if the doctors or trainees could not talk about their patients' treatment and diagnoses in front of their patients, what they had to say was not worth saying—a simple yet radical idea. Berne challenged the elite, expert position of the therapist, which he believed diminished patients' dignity and their responsibility for make changes in their lives.
The radical tenets of transactional analysis appealed to my humanistic values and my commitment to social justice. TA, as it was known, empowered the therapist and the client. It also fit in with the stance of feminists who were challenging the traditional view of human development.
At the core of TA is a contract between the client and the therapist.
Download


Copyright Disclaimer:
This site does not store any files on its server. We only index and link to content provided by other sites. Please contact the content providers to delete copyright contents if any and email us, we'll remove relevant links or contents immediately.