A Very Stable Genius by Philip Rucker & Carol Leonnig
Author:Philip Rucker & Carol Leonnig , Date: January 22, 2020 ,Views: 1190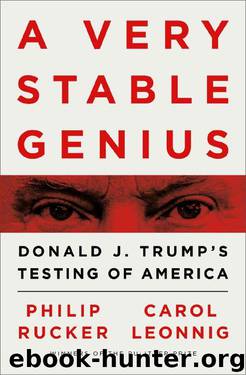 Author:Philip Rucker & Carol Leonnig
Language: eng
Format: azw3, epub, mobi
Publisher: Penguin Publishing Group
Published: 2020-01-20T16:00:00+00:00



* * *
—
On April 19, less than two weeks after the Cohen raid, Sekulow breathed a sigh of relief and announced what he considered a triumph. Trump had hired three new lawyers: Rudy Giuliani, a former New York City mayor who had been a legendary U.S. attorney, and Jane and Martin Raskin, two seasoned criminal defenders.
Giuliani needed no introduction. He had been "America's mayor," leading New York in the aftermath of the September 11 terrorist attacks and, in the 1980s, one of the country's great prosecutors. Now seventy-three years old, Giuliani was widely seen as a faded titan and a committed partisan, after his ad hominem attacks on Hillary Clinton during the 2016 campaign.
Giuliani, who would immediately become a cable-TV fixture as Trump's legal warrior, overshadowed the Raskins. The Raskins were not household names in the defense bar and in the coming months would garner nary a mention in the round-the-clock news coverage of the investigation. But they were content to work in the shadows. They were professionals with the street cred that comes from having worked on both sides of a criminal investigation, and their lawyering proved essential to the president's case.
Cobb, who would end up resigning from the White House on May 1, recommended the Raskins to Trump because he had known Jane from her time prosecuting mobsters as part of an organized crime task force in Boston. The president met with the Raskins at Mar-a-Lago over the previous weekend and had decided to hire them after just one conversation. Both Raskins had worked as Justice Department prosecutors and then built a reputation for good-quality defense work, notching enough wins to open up a small private practice in South Florida. The Raskins were Republicans and had played a supporting role in George W. Bush's legal efforts in the 2000 Florida recount, but were not overtly political, certainly by comparison with Giuliani and Sekulow.
The Raskins brought an added benefit to the Trump operation. Jane had previously worked side by side with Mueller at the U.S. Attorney's Office in Boston and with Quarles at a law firm. And Marty knew the father of Andrew Goldstein, another Mueller deputy who had been focused on interviews of White House officials and was among those gunning to sit down with the president.
The Raskins hoped to follow two core principles. First, they did not want to change how they operated just because their client was the president. They believed they had good facts and sound law on their side to help Trump, and they would stick to that. Second, they had an old-school style and had not interacted much with reporters. They did not want to try their case in the press or rush into TV studios to defend Trump. In fact, not doing so was part of their deal with the president. This would be exclusively Giuliani and Sekulow's territory.
When the trio of new lawyers came onto the scene to join Sekulow, they were shocked to discover they could not find comprehensive case files.
Download


Copyright Disclaimer:
This site does not store any files on its server. We only index and link to content provided by other sites. Please contact the content providers to delete copyright contents if any and email us, we'll remove relevant links or contents immediately.