Warship Builders by Thomas Heinrich
Author:Thomas Heinrich , Date: November 22, 2020 ,Views: 37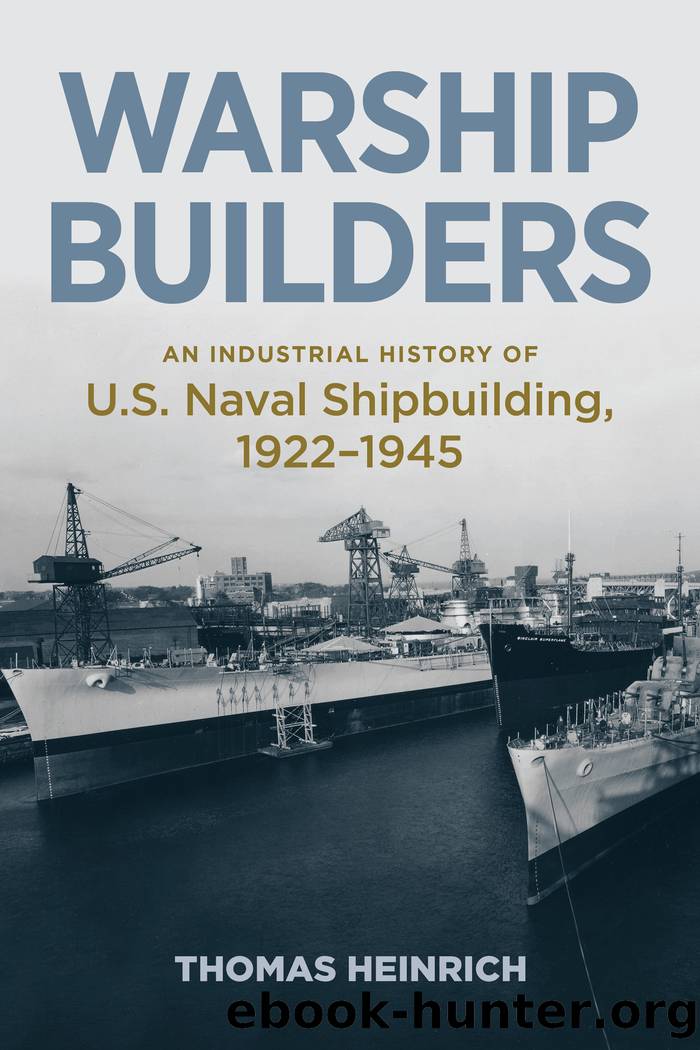 Author:Thomas Heinrich
Language: eng
Format: epub
Publisher: Naval Institute Press
Published: 2020-11-14T16:00:00+00:00



Figure 5.2. Chicago Bridge & Iron Company Yard in Seneca, Illinois.
Philip Lemler, "Multiple Yards: Record and Prospect," in The Shipbuilding Business of the United States of America, vol. 1, ed. Frederick G. Fassett Jr. (New York: Society of Naval Architects and Marine Engineers, 1948), 235.
The timing and sheer scale of U.S. Navy investments in private and contractor-operated plants gave American naval builders significant advantages over their foreign counterparts. In Britain, whose yards had suffered even greater neglect than American ones before the war, tooling and cranage remained inadequate well into the war, stifling the introduction of modern construction techniques. Sir Stephen Pigott of Browns told the Admiralty, "It is, of course, well known to you that our long established British yards can not utilise pre-fabrication to anything like the extent which is possible in a modern yard which has been laid out with special regard to pre-fabrication. Our limitation in lifting appliances is a most serious curtailment to the employment of pre-fabrication."28
The Admiralty ignored the facility problem until 1942, when an investigation headed by engineer Cecil Bentham revealed a range of deficiencies. Like Pigott, Bentham attributed the slow development of prefabrication in Britain to small cranes with a lifting capacity that rarely exceeded five tons. "The tendency now is to ask for cranes of 15 tons capacity, and there is a tendency to standardize on this size for the intermediate method of prefabricating heavy parts without going the full length of prefabricating a large area of plating as is done in North America," Bentham commented.29 Other problems included small yard size and outdated tools. "Owing to financial stringency many works have been completely unable to spend money on necessary renovations or new plant, and this during a time when engineering practice with regard to materials, tools and machines was making great strides."30 Crowded conditions hampered effective plant layouts because "Most of the old yards on the North East Coast and Scotland are limited in size and cannot easily expand their boundaries."31 Many yards lacked welding equipment and in some instances even pneumatic riveting guns, which had long been standard in American yards. Generally speaking, "Most firms have succeeded in putting in a few new machines during the war period, say the last three or four years, but the effect is rather to show up how very much out of date is the remainder of the plant. The bulk of machines in some works is left from the last war or previously."32 Bentham's recommendation to address some of the most pressing issues with public funding of facility updates led to the establishment of the Shipyard Development Committee. The latter provided funding to update naval as well as merchant yards, but the government provided only $6 million while industry invested $18 million in Britain's largest shipyard development program since World War I. The program retooled both naval and merchant yards. Most of the pneumatic riveting guns and welding tools Bentham had demanded were in place by August 1943. Select builders like Browns
Download


Copyright Disclaimer:
This site does not store any files on its server. We only index and link to content provided by other sites. Please contact the content providers to delete copyright contents if any and email us, we'll remove relevant links or contents immediately.