Virtual Selling by Blount Jeb;
Author:Blount, Jeb; [Blount, Jeb] , Date: August 6, 2020 ,Views: 300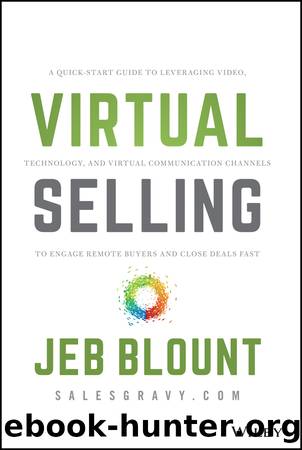 Author:Blount, Jeb; [Blount, Jeb]
Language: eng
Format: epub
Publisher: John Wiley & Sons, Incorporated
Published: 2020-07-28T00:00:00+00:00



Don't Overcomplicate It
Few things in sales have been more overcomplicated than the simple telephone prospecting call. Efficient and effective telephone prospecting should get you to yes, no, or maybe as fast as possible, in the least intrusive way, using a relaxed, confident, professional tone that reduces resistance. That way you get the yesses on the table fast and deal with objections directly without the painful dance around the bush.
Consider how you feel when your workday is interrupted by someone calling you unannounced. It can make you feel irritated, angry, or resentful, because in most cases, the call comes when you are in the middle of something else.
Let's step into your shoes. What would you want?
Your first response is probably, "I wouldn't want to get the call in the first place." I'll give you that. No one wants to be interrupted, not me, not you, not your prospect—even if the call is something we welcome.
But let's get back to reality. Salespeople who don't interrupt prospects have skinny kids. As a salesperson, you've got a choice to make: Interrupt or start a new career at your local coffee shop making minimum wage.
So, if you're going to get interrupted, what would you want? You would want the caller to get right to the point and get off the phone quickly so you could get back to posting cat videos on YouTube.
Now try standing in your prospects' shoes. They are people just like you who resent having their day interrupted by an unscheduled caller. Therefore, since interrupting people is your job, to be respectful, the call should be quick and to the point so that you achieve your objective and your prospect can get back to what they were doing.
To do this effectively, your call must be structured so that you get to the point fast and sound like an authentic professional rather than a scripted robot or a stereotype of the cheesy sales guy so often portrayed in movies.
You need a framework that is consistent and repeatable. Frameworks make you agile, freeing you to focus on your message rather than the time-consuming effort of rethinking your process each time. They give you a set of rails to run on that flex to changing context.
This structure takes pressure off of you and your prospect. Because you are not winging it each time you call, you won't have to worry about what to say. Shorter, more impactful calls mean you get more prospecting done, in less time, with better outcomes.
Download


Copyright Disclaimer:
This site does not store any files on its server. We only index and link to content provided by other sites. Please contact the content providers to delete copyright contents if any and email us, we'll remove relevant links or contents immediately.