The Works of Edgar Allan Poe — Volume 1 by Edgar Allan Poe
Author:Edgar Allan Poe [Poe, Edgar Allan] , Date: May 4, 2021 ,Views: 30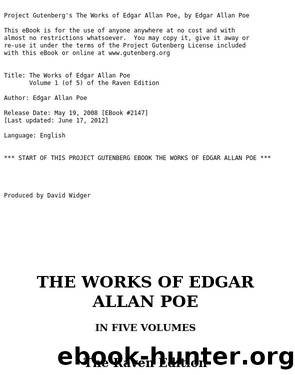 Author:Edgar Allan Poe [Poe, Edgar Allan]
Language: eng
Format: epub
Tags: Fantasy fiction, Horror tales, American, American fiction -- 19th century, Poe, Edgar Allan, 1809-1849
Published: 2000-03-31T16:00:00+00:00



Perdidit antiquum litera sonum.
"I had told you that this was in reference to Orion, formerly written Urion; and, from certain pungencies connected with this explanation, I was aware that you could not have forgotten it. It was clear, therefore, that you would not fail to combine the two ideas of Orion and Chantilly. That you did combine them I saw by the character of the smile which passed over your lips. You thought of the poor cobbler's immolation. So far, you had been stooping in your gait; but now I saw you draw yourself up to your full height. I was then sure that you reflected upon the diminutive figure of Chantilly. At this point I interrupted your meditations to remark that as, in fact, he was a very little fellow—that Chantilly—he would do better at the Th��tre des Vari�t�s."
Not long after this, we were looking over an evening edition of the "Gazette des Tribunaux," when the following paragraphs arrested our attention.
"EXTRAORDINARY MURDERS.—This morning, about three o'clock, the inhabitants of the Quartier St. Roch were aroused from sleep by a succession of terrific shrieks, issuing, apparently, from the fourth story of a house in the Rue Morgue, known to be in the sole occupancy of one Madame L'Espanaye, and her daughter Mademoiselle Camille L'Espanaye. After some delay, occasioned by a fruitless attempt to procure admission in the usual manner, the gateway was broken in with a crowbar, and eight or ten of the neighbors entered accompanied by two gendarmes. By this time the cries had ceased; but, as the party rushed up the first flight of stairs, two or more rough voices in angry contention were distinguished and seemed to proceed from the upper part of the house. As the second landing was reached, these sounds, also, had ceased and everything remained perfectly quiet. The party spread themselves and hurried from room to room. Upon arriving at a large back chamber in the fourth story, (the door of which, being found locked, with the key inside, was forced open,) a spectacle presented itself which struck every one present not less with horror than with astonishment.
"The apartment was in the wildest disorder—the furniture broken and thrown about in all directions. There was only one bedstead; and from this the bed had been removed, and thrown into the middle of the floor. On a chair lay a razor, besmeared with blood. On the hearth were two or three long and thick tresses of grey human hair, also dabbled in blood, and seeming to have been pulled out by the roots. Upon the floor were found four Napoleons, an ear-ring of topaz, three large silver spoons, three smaller of m�tal d'Alger, and two bags, containing nearly four thousand francs in gold. The drawers of a bureau, which stood in one corner were open, and had been, apparently, rifled, although many articles still remained in them. A small iron safe was discovered under the bed (not under the bedstead). It was open, with the key still in the door.
Download


Copyright Disclaimer:
This site does not store any files on its server. We only index and link to content provided by other sites. Please contact the content providers to delete copyright contents if any and email us, we'll remove relevant links or contents immediately.