The Untold Stories of Neverland: The Complete Box Set by K. R. Thompson
Author:K. R. Thompson [Thompson, K. R.] , Date: July 12, 2022 ,Views: 22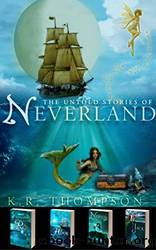 Author:K. R. Thompson [Thompson, K. R.]
Language: eng
Format: epub
Tags: Literature & Fiction, Mythology & Folk Tales, Science Fiction & Fantasy, Fantasy, Anthologies, Fairy Tales, Anthologies & Short Stories
Amazon: B01HJA2A7E
Published: 2016-06-23T22:00:00+00:00



RUNT STOOD ON the deck of the ship. He had been there when they brought his body on board. He'd caught a glimpse of the captain's face. It was white and pasty and had the look of the dead.
How will I join this crew if Captain Archie is dead? Runt watched, horrified, as they carted the captain's body below.
The sullen-looking, old man they had called the doctor looked even grouchier than the one other time Runt had seen him. He brushed by Runt as if he hadn't noticed his presence and followed the others down the steps.
It was quiet for the rest of the day. He stayed on the deck, wanting to help in some way, but didn't know how to go about it. The ship was a strange thing with hundreds of ropes stretching up to the huge pieces of canvas that billowed in the wind.
"Come up here, boy," a large man with rippling tattoos said from the deck above him. "I will teach ye how to sail the ship."
He did as the man asked and climbed the steps to the upper deck. "I am Beckett," the man introduced himself. "What be yer name, lad?"
"Runt." It came out in a nervous squeak, making Runt feel even more self-conscious as he stood in front of the hulking man before him.
"Well now, Runt. If ye wish to be a pirate, ye must know all there is to know about the ship, aye?" the man named Beckett said, giving Runt's shoulder a quick squeeze, before motioning to the big, round wheel in front of him. "What say ye take the wheel and bring us out to sea, eh?"
"Aye-aye, Captain," Runt said, taking the spokes of the wheel in his hands.
A chilling scream rent the air, sending gooseflesh along Runt's arms. He gripped the wheel and looked up at Beckett with wide eyes.
Beckett was looking toward the steps, where the scream had seemed to come from. "Nay, lad, I am not the cap'n of the Jolig Roger. I only be watching over her 'til her true cap'n is fit to handle her again."
Runt had been looking at Beckett's tense face, when he noticed something just over his shoulder. With a sense of dread, he whispered only loudly enough for Beckett to hear, "He's here. Peter is here."
Beckett whirled around as the gravity of his words hit him, and began barking orders to every man in sight. Runt cowered next to the wheel, hoping to escape Peter's notice.
"Ye stay close to me," Beckett said, as he stepped in front of Runt, blocking his view.
Runt hid behind Beckett's legs, hoping that Peter hadn't caught sight of him. He didn't want to be one of the Lost Boys anymore, but he wasn't feeling brave in this particular moment, either. He had been brave when Peter took Tiger Lily away. He had stood up to him and told Peter to leave her alone, but it hadn't worked. He had been too small to do any good. Now,
Download


Copyright Disclaimer:
This site does not store any files on its server. We only index and link to content provided by other sites. Please contact the content providers to delete copyright contents if any and email us, we'll remove relevant links or contents immediately.