The Haunted Cathedral by Antony Barone Kolenc
Author:Antony Barone Kolenc , Date: September 14, 2021 ,Views: 46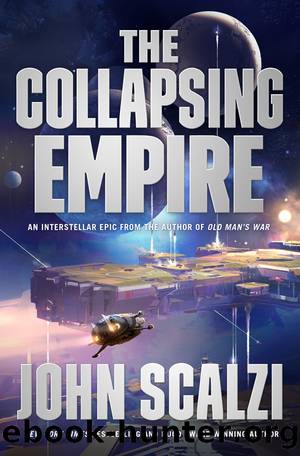 Author:Antony Barone Kolenc
Language: eng
Format: epub
Tags: JUV033140, JUVENILE FICTION / Religious/Christian/Historical, JUV016070, JUVENILE FICTION / Historical/Medieval, Middle grade historical fiction, children's Christian Historical Fiction, middle grade books with values
ISBN: 9780829448122
Publisher: Loyola Press
Published: 2021-02-02T00:00:00+00:00



15
Burial Ground
Halt!" The guard at the South Gate held up a spear as Xan approached. "Who are you, boy?"
"No one," Xan said. "Just a boy looking for his uncle."
"Not one of those Northmen boys, I hope," the guard said, peering at him suspiciously.
"Why does everyone keep saying that?" Xan said. Those Northmen boys must have been quite a lot of trouble for them to draw this kind of reaction from everyone they met.
The guard smirked. "When those Danish traders show up here every winter, their ships barely get to dock when a whole horde of them boys come racing out, like a pack of wild wolves." His tone was half-mocking, half-disgust.
"What do they do that's so bad?" Xan asked.
"Bring chaos and trouble wherever they go, 'tis what. And their parents go about town all day, selling queer fabric and trinkets from the East at dishonest prices. Who needs it all?"
"Well," Xan said. "I'm no Danish boy, as you can plainly see. So, may I pass?"
"I suppose you are tellin' the truth," the guard said. "But every few days a group of them Northmen are prowling outside the city—always the same ones." The guard stepped aside to let him by. "God only knows why they'd want to return here after the way we drove 'em out that night."
That did seem odd. Who would possibly buy anything from them even if they could sneak back into the city? It seemed that all of Lincoln was against them.
Xan bid the guard farewell and continued back up the hill. He reached the path that passed near the old cathedral. Still there was no sign of Uncle William or his attackers. For all he knew, they had already captured his uncle and were torturing him right now.
Ahead of him strode Father Philip, alone.
"Father, where are you heading?" Xan asked, catching up to him.
"Ah, Xan! I am on my way back to the cottage after running an errand. Walk with me and tell me all about your uncle."
Xan told him what had happened, including his chase to the swan pool.
"How terrible," the priest said. "I will inquire to see what I can learn about this Master."
"Thank you, Father." They walked on, and Xan told him about his conversation with the guard at the gate. "No one seems to like those poor Northmen families."
Even Father Philip sneered at their name. "A den of thieves they are. We trusted them to enter our city, and how did they repay us? We suspect several of them stole from the town square."
They stopped to speak with a baker selling his bread from a cart on the side of the road. Father Philip took out a coin. "One loaf, please."
The man pointed to a bushel on the ground containing three loaves of bread. "If you'd like, Father, you can take some of the Lenten excess at no cost to you. I will be leaving it here for the poor tonight, as always, so that it does not go to waste."
The priest smiled.
Download


Copyright Disclaimer:
This site does not store any files on its server. We only index and link to content provided by other sites. Please contact the content providers to delete copyright contents if any and email us, we'll remove relevant links or contents immediately.