The El Dorado Adventure by Lloyd Alexander
Author:Lloyd Alexander , Date: February 5, 2016 ,Views: 215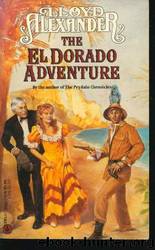 Author:Lloyd Alexander
Language: eng
Format: mobi, epub
Tags: Europe, Action & Adventure, Adventure and adventurers, Juvenile Fiction, Fiction, Historical, Indians of Central America, General
ISBN: 9780440200680
Publisher: Laurel Leaf
Published: 2008-08-10T05:00:00+00:00



Chapter 13
It should have been a glorious moment. Vesper, in her own modest way, was rather pleased with herself and, in my opinion, rightly so. She had confronted an assemblage of Caymans and Jaguars, faced a stern council of elders, and offered to work a miracle that would save all their lives. As she calmly stood there, face shining and eyes bright, I could not have admired her more. I applauded vigorously. I was the only one.
It was a disaster.
After a moment to recover from their shock, the Chiricas exchanged glances of dismay. Acharro looked crushed. He said nothing. The same elder who had spoken before expressed what, alas, was the general opinion.
"We have let you enter our council against our will. We have listened to you, nevertheless. You offered us little to begin with. At the end, you have made fools of us. Did you think to amuse us, like a woman promising to bring her child the moon for a play toy?"
There was no need for a motion of adjournment. The meeting was over, by silent acclamation. The men got to their feet as if suddenly remembering they had something better to do. The twins' round faces were identically glum. Blazer rubbed his nose and stared at the ground. Even Adelita was silent.
"Wait a minute, all of you—" Vesper called to them, although the poor child realized it was too late. She did not burst into tears, I would not have blamed her if she had. On the contrary, her eyes flashed and her jaw was set.
Acharro's elders, meantime, had vacated the residencia. Blazer and the twins offered a few words of consolation before they drifted out. As for Acharro, he was taking the business very personally. He looked at Vesper more in sorrow than anger, and with a sort of anguished disbelief. The poor fellow had evidently set more store in her plan than he had been willing to admit. He had, of course, every reason to be disappointed, but he seemed more crestfallen than I would have expected for a chieftain.
"Next time," declared Vesper, "they'll listen."
"There will not be a next time," Acharro said bitterly.
"Of course there will. As soon as we get back from Ocotalpa. This doesn't change anything," she went on, as Acharro frowned at her. "I'm still going there."
"To do what?" Acharro demanded. "There is no purpose in it."
"If I told you now," said Vesper, "you'd only start arguing with me. Put it this way: I want to go, and you promised you'd take us. Is it your custom to break your word?"
"I said I would do so if I accepted your plan."
"You haven't heard my plan," said Vesper, "so you don't know if you'll accept it or not."
If there was some flaw in this line of reasoning, Acharro seemed unable to put his finger on it. Finally, as Vesper continued to press him, he agreed.
Ordinarily, I would not have allowed Vesper to go traipsing off into a jungle to face anacondas, tigres, giant spiders, and whatever else.
Download


Copyright Disclaimer:
This site does not store any files on its server. We only index and link to content provided by other sites. Please contact the content providers to delete copyright contents if any and email us, we'll remove relevant links or contents immediately.