Tarot Healer by Leeza Robertson
Author:Leeza Robertson , Date: August 29, 2020 ,Views: 279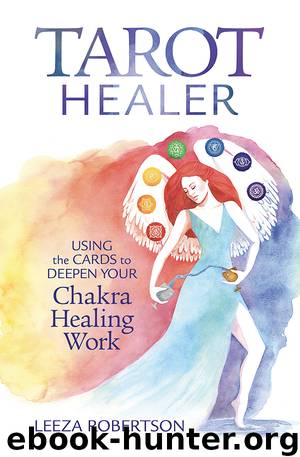 Author:Leeza Robertson
Language: eng
Format: epub
Tags: tarot healer;tarot healing;healing with the tarot;healing with tarot;how to use the tarot for;how to use the tarot for healing;tarot for healing;chakras;tarot and chakras;leeza robertson;leesa robertson;tarot;tarot book;tarot books;CVR10222019
Publisher: Llewellyn Worldwide, LTD.
Published: 2020-06-24T15:12:08+00:00



3. Empathy
True empathy almost feels like an impossible thing. "Walk a mile in someone else's shoes," the saying goes, but can we really ever do that? Empathy is the ability to understand other people's feelings. In most spiritual teachings, empathy is about being able to identify someone else's behavior in yourself, allowing you to see that empathy acknowledges no separation from the outside world with the inside world of self. All of these give different ways to approach empathy, yet all of them require a pretty large shift in the way we perceive ourselves and the world of our creation. It is a shift that we have not all been taught or equipped with. Empathy is one of those things that sound good on paper and seems like a kind and decent thing to aspire to have. I am sure most of us think we do act with empathy when the need arises. However, the more I learn about the heart chakra, the more I question if we really understand empathy at all.
Empathy practiced through the mind is an exercise in trying to understand something about someone that we perceive as different and acknowledge that we are walking different paths, making different choices, and creating different karma and consequences. Empathy via the heart, however, asks us to view everything as ourselves, with no separation. The battle between the mind and heart is where we fail to enter into a true state of empathy, for as long as we view it as something that is asking us to see the world through the eyes of someone different to us, we are not in the vibration of empathy at all. Perhaps this means the saying becomes "Can you walk a mile in your own shoes as a refugee, a homeless person, a murderer, a cheat, a thief, or someone else you previously thought was different from you?"
Ho'oponopono, a Hawaiian practice of forgiveness, was adapted and popularized in the early 2000s by Joe Vitale and Dr. Ihaleakala Hew Len as a problem-solving method. Vitale and Len illustrate this form of heart chakra empathy beautifully. In the book Zero Limits, they discuss how Len cured an entire ward of certified mentally unstable patients, to the point where they had to close the ward down.8 He did this by doing nothing but "cleaning" himself, or to put it another way, using empathy so he could see himself as all the other patients.9 Len also never saw any of these patients in person; he just read their files and asked the question "What is it in me I see in these patients?" and started the ho'oponopono process. This process is four short sentences:
I'm sorry.
Please forgive me.
I love you.
Thank you.10
These are the words of a heart filled with empathy.
Download


Copyright Disclaimer:
This site does not store any files on its server. We only index and link to content provided by other sites. Please contact the content providers to delete copyright contents if any and email us, we'll remove relevant links or contents immediately.