THE 25 Sales Strategies by by STEPHAN SCHIFFMAN;
Author:by STEPHAN SCHIFFMAN; , Date: April 14, 2020 ,Views: 314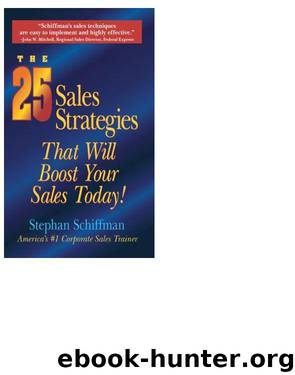 Author:by STEPHAN SCHIFFMAN;
Language: eng
Format: epub
Tags: epub, ebook
Publisher: Stephan Schiffman
Published: 1999-07-15T00:00:00+00:00



STRATEGY #13
Observe
Recently I did a training program with a company in Los Angeles. Part of my presentation involved challenging the sales reps to find new opportunities for business — material for prospecting that no one in the organization had taken advantage of up to that point. Most of the salespeople I was working with were skeptical. "We've already pretty much done it all," they told me. "There are no new companies to call."
Well, if there's one thing I've learned over the past twenty-five years, it's that there's always an opportunity for new business if you're observant enough to look for it. During a break, I picked up a copy of the Los Angeles Times and I went through the paper — the business section, the classified section, the wedding section, the obituary section, every section I could think of — and circled every company that seemed like a possible match for the organization I was training.
As it turned out, I came up with 198 different companies that these sales reps had never contacted before. That's one newspaper, in one day. All of a sudden, there was some new prospecting for these salespeople to work on!
If we're motivated to observe — if we ceaselessly ask ourselves, "What's new about this situation? What can I use to my advantage that I've never seen before?" — then we observe. We find ourselves wondering, "Hey, what do you think I might be able to find in that newspaper this morning?"
In my experience, superior salespeople are superior observers.
Part of observing is being open to new ways of doing things. I've already mentioned the power of reaching out to new prospects by giving speeches and mentioning what you do to your friends, relatives, and acquaintances. Maybe, for you, observing means taking advantage of new opportunities in these areas. (Please note that reaching out via public speaking isn't anywhere near as scary as it sounds, and it can deliver some extraordinary new leads for your sales work. After a recent speech, I walked away with seventy-five new business cards from new acquaintances!)
The point is that you should always be on the lookout for new opportunities for business, whether that means introducing yourself to everyone in sight after a speech or professional function, or mailing a round of letters to customers and prospects, or taking a marker to your Sunday paper to identify new business opportunities. Keep an open eye — even when you're off duty!
Many of my best sales reps carry small pads of paper with them at all times — weekdays, weekends, whenever — exclusively for the purpose of jotting down names of companies they notice. Perhaps they pass a billboard, or see an ad on television, or notice an article in the newspaper. Later, they call their "pad companies" and try to set up appointments. If you make a habit of being observant in this way, then you'll never fall into the trap of believing that there's no one new to call. (See also Strategy #23, on making the most of fallback opportunities.
Download


Copyright Disclaimer:
This site does not store any files on its server. We only index and link to content provided by other sites. Please contact the content providers to delete copyright contents if any and email us, we'll remove relevant links or contents immediately.