Sustainable Food Drying Techniques in Developing Countries: Prospects and Challenges by Mahadi Hasan Masud & Azharul Karim & Anan Ashrabi Ananno & Asif Ahmed
Author:Mahadi Hasan Masud & Azharul Karim & Anan Ashrabi Ananno & Asif Ahmed , Date: July 1, 2020 ,Views: 8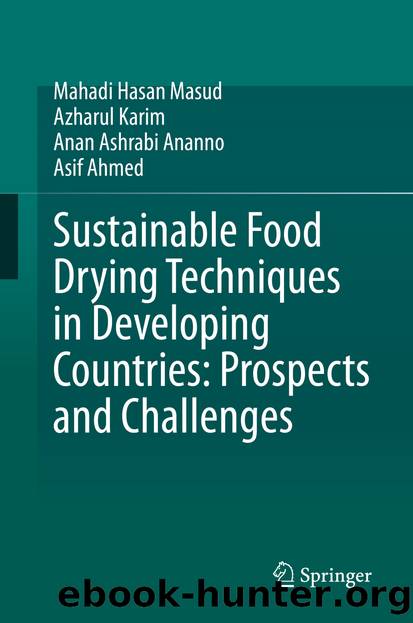 Author:Mahadi Hasan Masud & Azharul Karim & Anan Ashrabi Ananno & Asif Ahmed
Language: eng
Format: epub
ISBN: 9783030424763
Publisher: Springer International Publishing



5.2.2.2 Solar Dryer With Integrated Rock Storage System
Similar to the principle of a PCM V-corrugated solar dryer, an integrated rock storage solar dryer drives ambient air over an absorber plate equipped with rock thermal storage. The efficiency of the system is improved with the addition of a chimney, which creates upwards natural draft for the incoming air and a plenum chamber for better heating and ventilation. The natural draft created by the chimney eliminates the requirement of a blower, which reduces the operational cost of the system. For a specific rock bed thickness and mass flow rate, where the dryer temperature is significantly higher than the surroundings, it is recommended to use a single or double glass cover in order to limit thermal loss. Irrespective of the mass flowrate, an integrated rock storage solar dryer is effective up to 3:30 pm. The system displays high overall thermal efficiency in contrast to the conventional solar air heater [25].
The schematic diagram of a solar dryer with an integrated rock storage system is shown in Fig. 5.6. This method of solar drying requires no mechanical component, which considerably increases its service life. Ayensu and Asiedu-Bondzie have investigated the drying characteristics of tropical products such as cassava chips, cassava leaves, fish, and pepper using an integrated rock storage solar dryer [46]. They have tested the mass transfer rate, convective heat transfer coefficient, and energy-absorbing capacity of the rock storage system [46]. The results show that it is possible to transfer 118 W/m2 power to the drying air when the system is operating at 32 °C. Additionally, the drying time of the above system is nearly half in contrast to the time required for an open-air sun dryer. Throughout the process, drying is accomplished in two stages. In the first stage, 'free' water is removed from the food material, which is followed by the second stage, 'bound' water removal. The efficiency of this improved solar dryer is 22%, where the rock thermal storage system enhances the drying capacity by 1.1 kWh−1.
Fig. 5.6Schematic diagram of the solar dryer with integrated rock storage system
Download


Copyright Disclaimer:
This site does not store any files on its server. We only index and link to content provided by other sites. Please contact the content providers to delete copyright contents if any and email us, we'll remove relevant links or contents immediately.