Strange Tales from Liaozhai--Volume 2 by Pu SongLing
Author:Pu SongLing , Date: August 6, 2020 ,Views: 45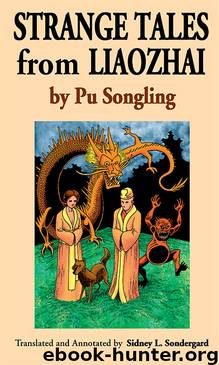 Author:Pu SongLing
Language: eng
Format: epub
Publisher: Jain Publishing Company
Published: 2008-08-05T16:00:00+00:00



124. Grand Master of the Five Sheep Fleeces
Chang Tiyuan, whose style name was Ruyu, lived in Hejin county. When he was a candidate in the lowest level of the civil service examination, he dreamt that others were calling him "Grand Master of the Five Sheep Fleeces," so he was overjoyed when he woke up, construing his dream as a good omen.
This happened just before he had an encounter with some roving bandits who forced him to strip off all his clothes, and then locked up him overnight in an empty room. As this was during the winter months of the lunar year and it was very cold, he fumbled around till he found several sheep fleeces to keep his body warm, and thanks to the fleeces, he managed to stay alive. At daybreak, he saw that there were exactly five of them. He laughed to himself at the trick that the gods had played on him.
_______________________________
Hejin county: Located in Shanxi province.
"Grand Master of the Five Sheep Fleeces": This title was given to Bai Lixi, who served as a counselor of the Duke of Mu during the seventh century B.C.E. When Bai was captured by some men, Duke Mu offered to pay five sheep's fleeces as a ransom for him, "offering no higher ransom lest the captors should deem their prize too valuable" (Mayers 183). In later usage, the phrase alluded to "a ruler's respectful treatment of worthy ministers" (Zeitlin 266n36), and popularly signifies a person who starts out impoverished but later becomes wealthy.
Later he successfully took the imperial civil service examination and became a county magistrate in Shaanxi province. In the final tally, he distinguished himself as an ambitious gentleman.
Download


Copyright Disclaimer:
This site does not store any files on its server. We only index and link to content provided by other sites. Please contact the content providers to delete copyright contents if any and email us, we'll remove relevant links or contents immediately.