Southern Inspired by Jernard A. Wells
Author:Jernard A. Wells , Date: September 19, 2023 ,Views: 91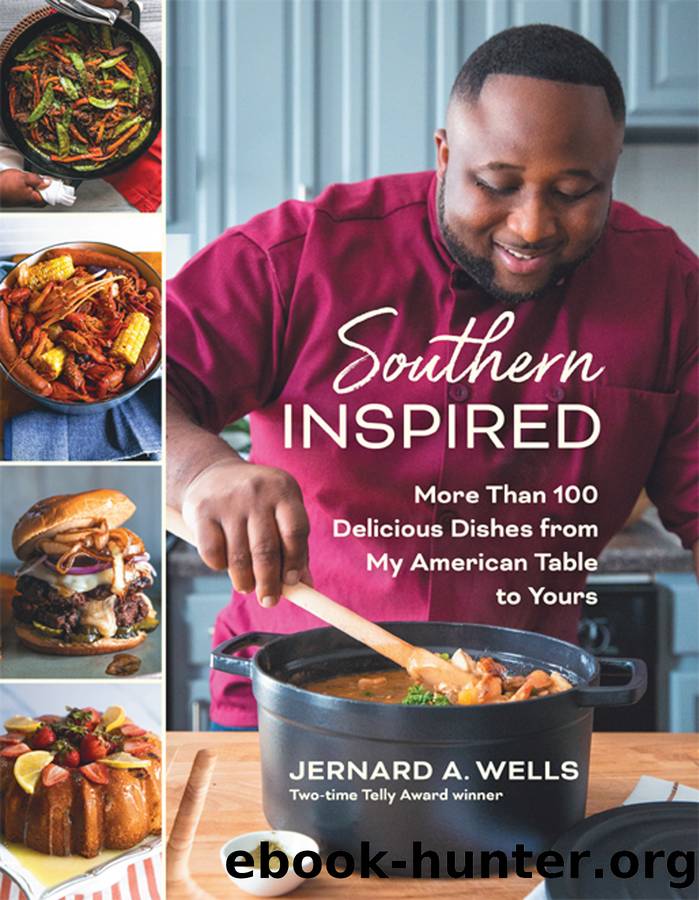 Author:Jernard A. Wells
Language: eng
Format: epub
ISBN: 9781637741511
Publisher: BenBella Books
Published: 2022-07-06T00:00:00+00:00



THE ROOTS OF BARBECUE CAN BE TRACED BACK TO THE TAINO (Indigenous peoples of the Caribbean), Native Americans, and enslaved Africans. Each group built upon techniques and spice blends of the others to create barbecue as we know it today in America. Almost ceremonial in its preparation and sanctified for its regional recipes, barbecue is entrenched as a staple of Southern culture and cuisine. Nothing brings people together like a barbecue can!
When I was growing up in Mississippi, as soon as the temperature was close enough to 69 degrees my dad would say, "Your great-grandaddy's gettin' ready to pull meat out the smokehouse—you know what that means!" It meant barbecue season had arrived, even though to me, 69 degrees was barely spring. My great-grandfather, Peter Young—not Peter Old, but Peter Young—got things rolling when he started taking down steaks, pork chops, legs, and loins that had been aging in his smokehouse, replacing them with fresh cuts, and divvying up the meat among friends and family for cookouts. Have you ever seen a pretty pork chop? Those were some pretty chops. I'm talking thick, juicy two-inchers, aged to smoky perfection and ready for the grill!
My great-grandparents had a peach tree that supplied us with enough fruit to eat all year round, whether fresh or home-canned. Once barbecue season kicked in, my great-grandfather and dad would grill peaches and process them into a smoky glaze that they would then drizzle over the chops when they came off the fire. Those chops, the peach glaze, and the smoke from the hickory wood that I cut myself from stumps out back left such an impression on me that I made a version of this for the "Dish of My Life" segment when I finished as runner-up on Food Network Star, Season 12.
But it wasn't just the dish itself that was so meaningful to me—although it really is that good. It was the memories of eating those chops with friends and family around the fire, feeling that warmth, that love, that community that food brings about. It was also the time when I would "ear hustle" around my aunts, uncles, and older cousins—listening to grown folks talk, being welcomed in. We were connected.
Get ready to spread some joy and make some memories as you prepare these Peach and Chipotle Glazed Pork Chops, along with five other grill favorites and three sides at your next bangin' barbecue!
Download


Copyright Disclaimer:
This site does not store any files on its server. We only index and link to content provided by other sites. Please contact the content providers to delete copyright contents if any and email us, we'll remove relevant links or contents immediately.