Shakespeare's Spy by Gary Blackwood
Author:Gary Blackwood [Blackwood, Gary] , Date: October 11, 2015 ,Views: 481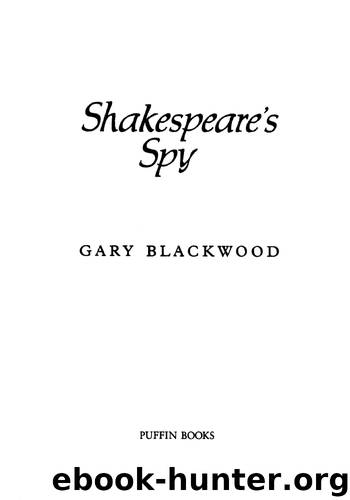 Author:Gary Blackwood [Blackwood, Gary]
Language: eng
Format: epub
ISBN: 9781101562772
Publisher: Penguin Young Readers Group
Published: 2005-04-20T16:00:00+00:00



20
We were all of us momentarily struck dumb by this revelation. Though it had been clear all along that Garrett was hiding something, I doubt that anyone suspected what it was. Neither his appearance nor his behavior was the sort one expected from a priest. There was nothing remotely spiritual about him; on the contrary, he was clearly well versed in the ways of the world. And yet someone must have guessed his secret, in order to give it away.
Sam broke the stunned silence. "God precious potstick!" he breathed: "A priest!"
"Ha' the priest hunters looked downstairs?" I asked.
Mr. Heminges nodded. "G-Garrett—or sh-should I say Gerard?—has not t-turned up yet. He m-may be on his way, however."
"We must warn him!" said Sam.
"Why?" put in Sal Pavy. "Let them catch the mass-monger."
Sam cast him a venomous look. "Do you know what they do to priests?"
"I'll try to head him off," I said.
"G-good lad. You kn-know where he's staying?"
"Aye."
"Well, what are you waiting for?" exclaimed Sam. "Move your bones!"
I slipped down the outer stairs and hurried along Gracechurch Street, toward the river. Mr. Shakespeare had said that Garrett—that is, Gerard—was lodging with Ben Jonson, and I knew that the playwright had lately taken up residence in the palatial house of his patron and fellow Papist, Sir Thomas Townshend, on the Strand.
I was nearly to Sir Thomas's house when I saw Gerard approaching along the Strand. I called to him and he raised a hand in greeting. Then he reached inside his cloak, produced a sheaf of papers bound with string, and waved it at me. "Jonson's play. He's laid up with a cough and a fever, and asked me to—"
"Never mind that! I've come to warn you! There's a band of priest hunters at the Gross Keys!"
He did not seem distressed by this, only resigned, as though he had expected it. "So you know my secret, then?"
"Aye."
Taking my arm, he led me across the street and down a narrow alley. "We'd best stay out of sight. They may come here looking for me."
"No one will tell them where to find you."
"I wouldn't think so. But then I wouldn't have thought that anyone would betray me to the pursuivants in the first place."
"It could not ha' been one of the Chamberlain's Men, surely; none of us kenned you were a priest."
"Judith knew, and she may have let it slip. It's also possible that Ned Shakespeare knew."
"How could he?"
"For the past several years I've been traveling about the Midlands, saying Mass in secret for those of the old faith and ministering to the dying. One of those to whom I gave the last rites was John Shakespeare—Ned and Will's father."
"And Ned was still in Stratford then?"
Father Gerard nodded. "Well, there's little use in speculating about who's responsible. I knew I'd be found out sooner or later."
"Why did you come to London, then? Why did you not stay up north?"
"There are priest hunters there as well. Besides, my superiors felt I was needed here."
"To do what?"
"I have two missions.
Download


Copyright Disclaimer:
This site does not store any files on its server. We only index and link to content provided by other sites. Please contact the content providers to delete copyright contents if any and email us, we'll remove relevant links or contents immediately.