Savage Sales Secrets by Steve Savage
Author:Steve Savage , Date: March 13, 2020 ,Views: 163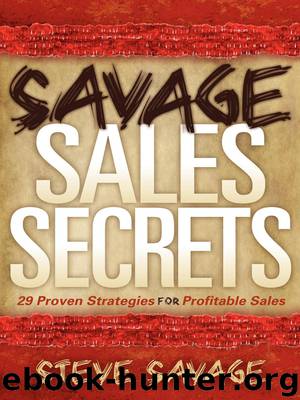 Author:Steve Savage
Language: eng
Format: epub
Publisher: Morgan James Publishing



Savage Sales Secret #16
Sell with intelligence
I have bought dozens of cars over the years, but my most recent purchase highlights everything I have talked about in Savage Sales Secrets. I am going to tell you about two car dealers that completely blew a chance to sell me a luxury car—and another one who did it just right.
The first dealer blew his chance to sell us a car due to poor service over a two-year period. My wife likes to buy a car and keep it for several years. She had bought a fabulous Saab convertible from a great dealer who gave her great service. It was her favorite car of all time. She even liked it better than her Jaguar. In fact, the Jaguar sat in the garage so much that we finally sold it. She happily drove the Saab for 10 years and we moved away. We had to find another Saab dealer in the new city. It was no fun. Service was sloppy. Barrie would have driven the Saab for another ten years. But she did not like the Saab service department. It was time to trade.
We went to the Cadillac dealer. The salesperson took us straight out to the lot and stuck us in a lovely new Cadillac. We went for a ride while he talked the whole time. Yakkety yak. He never asked us what color we liked, what style we preferred or what we intended to use the car for. He was determined to sell that particular car. We asked him about financing. He said we would have to fill out an application before he could quote us on financing. We felt under a lot of pressure and got increasingly uncomfortable. Although the car was nice, it was not exactly what we wanted. The salesman annoyed us and we figured out a way to gracefully exit.
We had not thought about an Audi, but happened to drive by the Audi dealership. On impulse, we drove in. What a contrast to the Saab and Cadillac dealers! The showroom was large, clean, well-lighted and quiet. The salesman's name was Ralph. He asked us to sit down in two comfortable chairs across from his desk. He called us by name and asked us what type of car we were looking for. Size, color, use, business, pleasure. He covered everything quickly and efficiently. Then he said, "There are six cars here in the showroom. Why don't you go and sit in each one of them for a couple of minutes. Make sure you sit in both the front seat and the back seat. Then come back and tell me which one feels best."
What a great idea! We did precisely that. The Audi A8 was the roomiest car we had ever sat in since the good old days in the 50's and 60's when cars were really roomy. It was a truly full-size luxury executive car. We sat in the back seat and stretched our legs out—and pictured the comfort our families and friends would enjoy riding with us.
Download


Copyright Disclaimer:
This site does not store any files on its server. We only index and link to content provided by other sites. Please contact the content providers to delete copyright contents if any and email us, we'll remove relevant links or contents immediately.