Path of Justice (Mara Brent Legal Thriller Series Book 5) by Robin James
Author:Robin James [James, Robin] , Date: March 17, 2023 ,Views: 54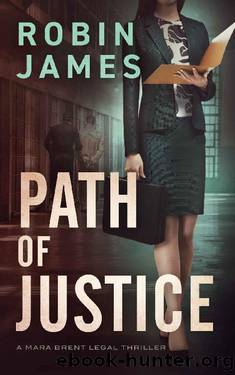 Author:Robin James [James, Robin]
Language: eng
Format: epub
Publisher: Robin James Books
Published: 2022-02-28T16:00:00+00:00



20
"We have a long road ahead. A lot of work to do. I'm just grateful that justice has prevailed. But none of that is the truly important part. Neveah Ward was a tragic, troubled girl and I regret any part I played in what happened to her. I know you are eager to hear my story. Just as I'm eager to tell you. But for now. For today, I'd like to lead a moment of silence in prayer for the soul of Neveah Ward."
"He did not just …" Caro stood beside me as we stared at the playback from Denny Sizemore's press conference on her computer screen.
"He did," I said. "The bastard just led a prayer on the courthouse steps."
"There was no justice," Hojo said. He stood on the other side of the room. "He wasn't found not guilty."
"He's going to spin it that way anyway," I said, the words leaving a bitter aftertaste in my mouth.
"I can't listen to any more of this," Caro said. She reached over and closed her laptop.
"He's going to win," Hojo said. "Denny Sizemore is like a cockroach. He's going to figure out a way to make himself the victim and he's going to be mayor again."
"I have to go," I said. "I'll be across the street at the Sheriff's Department. I want to see where we are on Neveah's death investigation."
"You're clear for the rest of the day," Caro said. "You were supposed to be in trial all this week. Take all the time you need. We'll hold down the fort here."
"Thanks," I said, grabbing my briefcase. I made the short, one-block walk into the police station and up to the detective bureau. Gus wasn't at his desk but Sam saw me and motioned for me to come into his office.
"Close the door and have a seat, Mara," he said.
"What do you have for me, Sam?" I asked. "Please let it be good news."
He gave me a sad smile. "I don't know what constitutes good anymore. Do you?"
I paused. "Yeah. I guess not."
"Gus is downstairs re-interviewing Web Margolis."
"I want to be there for that," I said, rising. Sam motioned for me to sit back down.
"He's got it under control. You can head down there in a few minutes. I'll go with you. In the meantime, we got the full forensic report back on Neveah's phone and laptop. I wish I had something interesting to tell you. But Gus isn't seeing anything out of the ordinary. No surprises."
"So you're nowhere," I said. "Those drugs came from somewhere. They didn't just drop from the sky."
"We're working on it," Sam said. "But you have to be prepared for the fact we're about to run out of investigative road. David says he'll get the final toxicology back in a few days."
"You're going to close the case, aren't you?" I said. "That's what this grim face of yours is all about."
"I didn't say that," he said. "I said you need to prepare yourself for what might be coming."
"She didn't kill herself," I said.
Download


Copyright Disclaimer:
This site does not store any files on its server. We only index and link to content provided by other sites. Please contact the content providers to delete copyright contents if any and email us, we'll remove relevant links or contents immediately.