My Side of the Story by Will Davis
Author:Will Davis , Date: September 14, 2021 ,Views: 37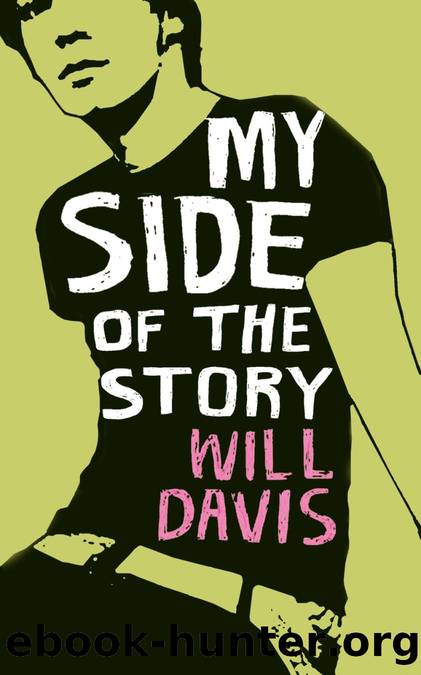 Author:Will Davis
Language: eng
Format: epub
ISBN: 9781596919754
Publisher: Bloomsbury Publishing
Published: 2019-12-17T16:00:00+00:00



15
So, stepping back in time here, Mum's got this new curfew thing going on, which is where she says I can go out at the weekend but I've got to be back before twelve. Also she wants this like, detailed plan of what I'm going to be doing and says she's going to call me halfway through the evening to make sure of it, which is like, lamest of the lame. Anyway, she knows all about Mary's party 'cos somehow it's become like, this legend at school and everybody wants to go to it (apparently), and even the teachers and parents know it's happening.
Al takes like, a century to get ready. When she finally comes downstairs after leaving me to deal with a total overload of awkwardness with her Mum (who spends the whole time gabbing about school and is super-careful not to come within a metre's distance of me), she's wearing this miniskirt and low-cut red top and has got blonde extensions clipped to her hair. She's even got heels on. It's basically just like the kind of get-up Mary and her posse totter around in.
Hi there, Al goes in this deep, throaty voice.
I'm like, What are you referencing?
She's like, I just felt like I'd try a change, all breezily like she's undergone some dramatic de-spectacle-isation scenario and emerged a beauty queen.
Darling, are you sure you should be wearing that top? goes Mrs Rutland nervously.
Al waves her off and then we leave for the party. All the way there Al's teetering like any second she's gonna do a forward flip. I'm sure it's going to be a total drag but she's all geared up, being the kind of kid who never gets invited to this gang's dos. Right at the last minute I go, Are you sure you want to do this? but she totally insists on it and tells me she'll never forgive me if I don't take her on this like, golden opportunity to be made to feel insecure for the rest of her life.
Mary's house is in Kensington and it's pretty posh. The second we walk up the drive you can hear the usual whoops and laughs and my heart's just sinking at the prospect of putting myself through this, but we've come this far so we keep on going. On the porch there're a couple of older kids I've never seen before drinking beer and smoking a joint while at the same time being like, bouncers or something. Seeing them makes me a little hopeful that inside there might actually be some vaguely cool people, so I chin up a bit. We're friends of Mary's, I go and they smile and nod and gesture for us to go inside.
No sooner have we got in the door than Mary is on top of me. She must have been watching at the window like some heroine in a Victorian novel or something. She appears out of nowhere with this smile which is totally blinding even without much light on it, and then like, welds herself to my arm.
Download


Copyright Disclaimer:
This site does not store any files on its server. We only index and link to content provided by other sites. Please contact the content providers to delete copyright contents if any and email us, we'll remove relevant links or contents immediately.