Mette Ivie Harrison - Hound Saga 02 by The Princess & the Bear
Author:The Princess & the Bear [Princess, The & Bear, the] , Date: April 10, 2021 ,Views: 67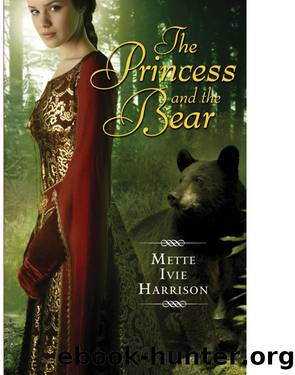 Author:The Princess & the Bear [Princess, The & Bear, the]
Language: eng
Format: epub
Published: 2012-06-01T19:37:23+00:00



"Why?"
"Because a bear can do things a man cannot," said Richon.
"And a woman can do things a hound cannot," said Chala.
"Then you are saying—" Richon began. She could not be saying that she wanted only to be a woman now, could she?
"I am hound and woman," said Chala. "Just as you are bear and man."
"And king," Richon muttered to himself.
"Perhaps the woman there has a triple figure," said Chala. "Shall we ask her?"
Richon was surprised to see the gleam of humor in her eyes. He had seen humor in the hound many times, though it was rarer in the woman Chala.
But her eyes were bright indeed, and when he smiled at her she let her lips spread widely over her teeth.
"Another day we will come back here," Richon suggested. Until this moment, he had not allowed himself to think beyond getting his kingdom back. But now he realized that his kingdom was not enough. He needed Chala, as well, to feel whole.
"Another day?" said Chala blankly. "What need for another day when we have this one?" she asked.
He smiled at her. In a way, he supposed, she was still very much a hound.
And he was glad of it.
164
Download


Copyright Disclaimer:
This site does not store any files on its server. We only index and link to content provided by other sites. Please contact the content providers to delete copyright contents if any and email us, we'll remove relevant links or contents immediately.