Marketing analytics: a practical guide to real marketing science by Grigsby Mike
Author:Grigsby, Mike , Date: July 4, 2020 ,Views: 192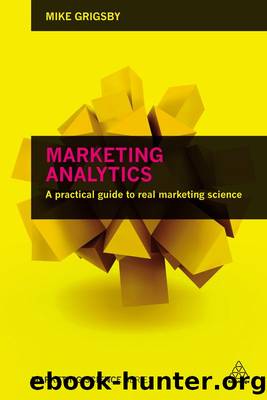 Author:Grigsby, Mike
Language: eng
Format: epub
Publisher: Kogan Page
Published: 2015-06-03T00:00:00+00:00



The four Ps of strategic marketing
Segmentation is part of a strategic marketing process called the four Ps of strategic marketing, coined by Philip Kotler. Kotler is probably the most widely recognized marketing guru in the world, essentially creating the discipline of marketing as separate from economics and psychology. He wrote many textbooks including Marketing Management (1967), now in its 14th edition, which has been used for decades as the pillar of all marketing education.
Most marketers are aware of the four Ps of tactical marketing: product, price, promotion and place. These are often called the 'marketing mix'. But before these are applied, a marketing strategy should be developed, based on the four Ps of strategic marketing.
Partition
The first step is to partition the market by applying a (behavioural) segmentation algorithm to divide the market into sub-markets. This means recognizing strategically that one size does not fit all, and understanding that each segment requires a different treatment to maximize revenue/profit or satisfaction/loyalty.
Probe
This second step is usually about additional data. Often this may come from marketing research, probing for attitudes about the brand, its competitors, shopping and purchasing behaviour, etc. Sometimes it can come from demographic overlay data, which is especially valuable if it includes lifestyle information. Last, probing data can come from created variables from the database itself. These tend to be around velocity (time between purchases) or share of products penetrated (what per cent does the customer buy of category X, what per cent of category Y, etc.), seasonality, consumer confidence and inflation, etc.
Prioritize
This step is a financial analysis of the resulting segments. Which are most profitable, which are growing fastest, which require more effort to keep or cost to serve, etc.? Part of the point of this step is to find those that we might decide to DE-market, that is, those that are not worth the effort to communicate to.
Position
Positioning is about using all of the above insights and applying an appropriate message, or the correct look and feel and style. This is the tool that allows the creation of compelling messages based on a segment's specific sensitivities. This marketing communication is often called marcom. This incorporates the four Ps of tactical marketing.
Download


Copyright Disclaimer:
This site does not store any files on its server. We only index and link to content provided by other sites. Please contact the content providers to delete copyright contents if any and email us, we'll remove relevant links or contents immediately.