INKED by Jeb Blount
Author:Jeb Blount , Date: May 21, 2020 ,Views: 429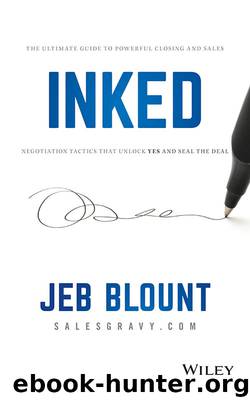 Author:Jeb Blount
Language: eng
Format: epub
ISBN: 9781119540557
Publisher: Wiley
Published: 2019-12-11T17:00:00+00:00



The Magic Quarter-Second
At the sales negotiation table, you will be pushed to emotional extremes by stakeholders who challenge your positions, diminish the value of your proposal, hit you with hard questions, and make you feel insignificant. They will take illogical positions, make power plays, and say things designed to shake you emotionally. They've been trained to do this because when they do, you are more likely to give concessions.
The secret to gaining control of disruptive emotions in the moment is simply giving your rational brain a chance to catch up and take control so you can rise above these disruptive emotions, regain composure, and choose your response.
In her book, Emotional Alchemy, Tara Bennett-Goleman calls this the "magic quarter-second"2 that allows you to keep the disruptive emotions you feel from becoming emotional reactions you express. In fast-moving, emotionally charged situations, the most effective technique for creating this magic quarter-second is the ledge technique.
A ledge may be a statement, acknowledgment, agreement, or question. It can also be a noncomplementary response (relaxed, assertive confidence) that disrupts the stakeholders' patterns and their expectation for how you will respond to their approach. Examples include statements like:
"That's interesting—can you tell me why this is important to you?"
"How so?"
"Would you help me understand?"
"Interesting—could you walk me through your concern?"
"Just to be sure I understand your question, could you elaborate a little more?"
"It sounds like you've been through this before."
"What else is worrying you about that?"
"This is exactly why we put _________ in our proposal."
"That's exactly what I thought you might say."
"I figured you might say that."
"A lot of people ask the same question before ________."
"I get why you might feel that way."
"That makes sense."
Download


Copyright Disclaimer:
This site does not store any files on its server. We only index and link to content provided by other sites. Please contact the content providers to delete copyright contents if any and email us, we'll remove relevant links or contents immediately.