Hunger Winter by Rob Currie
Author:Rob Currie , Date: May 5, 2020 ,Views: 380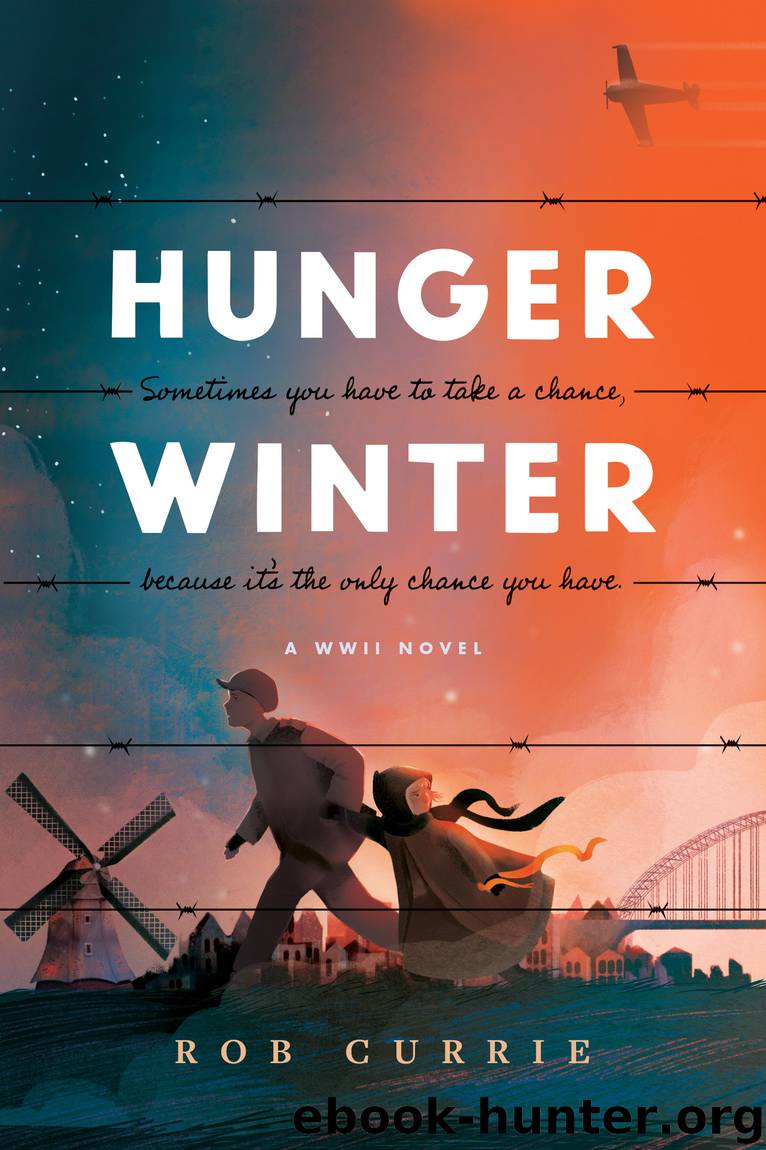 Author:Rob Currie
Language: eng
Format: epub
Tags: JUVENILE FICTION / Historical / Military & Wars, JUVENILE FICTION / Historical / Europe
Publisher: Tyndale House Publishers, Inc.
Published: 2020-03-03T00:00:00+00:00



CHAPTER SEVENTEEN
GESTAPO INTERROGATION CENTER
OOSTERBEEK
NOVEMBER 22
"DON'T GO TO SLEEP TONIGHT," a guard told Els. "You'll be questioned at eleven o'clock."
After he left, Els sat with the bright overhead light still on and guards making plenty of noise to be sure she couldn't sleep. They kept up the racket until many hours later when a different guard entered her cell and informed her the appointment had been postponed.
Two nights later, the Germans told her she must stay awake and await questioning at midnight. Shortly after the three o'clock shift change, they told her she could go to sleep. Immediately, she grabbed her little heart of stone from the corner where she'd hidden it, curled up on the mattress, and slept.
The next morning they questioned her without warning before breakfast, but she told them nothing. That afternoon, they took her to a room with a bar on the wall high above her head. They tied her hands together and connected them to a rope, which they looped around the bar. After an hour, Els's arms ached and throbbed. Just when she thought she couldn't take it anymore, a guard brought a plate of bratwurst and sauerkraut and set it on a table along with a glass of water. "Here is your dinner," he said. Els's mouth watered, her nose twitched, and she couldn't take her eyes off the food.
"Hey!" Els yelled at him as he left. "You forgot to untie me!"
The man stepped toward Els. "No. I didn't forget." A few minutes later he returned with a chair. "It's too bad you didn't want your food." He held the plate to his nose and inhaled deeply with his eyes closed. "Ahhh." He twirled the fork as he chewed, eyes locked on Els's. She returned his stare, keeping her face as blank as she could. After he left, Els's arms ached and her stomach growled.
With her arms still trapped in the air, her mind went to work. In the first few days after Els's arrest, she had focused on not breaking under pressure and talking about Papa. But now a new fear largely replaced the first one, like a cold, chilling fog that pushed out a previous weather system. Now Els feared she wouldn't make it out of this prison alive. Would she die of disease due to poor nourishment? Or would they execute her for not talking? She grimaced. The Gestapo's prisoners often melted into what the enemy called "night and fog." Perhaps Els and the other prisoners here were just phantoms waiting to die.
Els should have seen her arrest coming. When Mama died, something inside her had snapped. Mama's passing wasn't directly the Nazis' fault, but Els had decided to take out her feelings of loss and anger on the enemy. By day she worked in the permit department of the city government so she could pay the bills, but by night she gave herself to Resistance activities. At the time, Els saw their activities as a heroic struggle against a mighty enemy that the Dutch were certain to eventually defeat.
Download


Copyright Disclaimer:
This site does not store any files on its server. We only index and link to content provided by other sites. Please contact the content providers to delete copyright contents if any and email us, we'll remove relevant links or contents immediately.