Hollywood Blood by M. Z. Kelly
Author:M. Z. Kelly [Kelly, M. Z.] , Date: October 19, 2020 ,Views: 10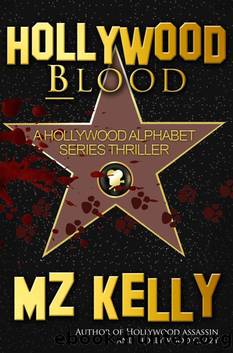 Author:M. Z. Kelly [Kelly, M. Z.]
Language: eng
Format: epub
Published: 2014-04-30T04:00:00+00:00



Chapter Thirty-One
We all turned as a door opened and Special Agent Brian Dressler entered. Byron Ellington introduced the computer expert, giving us a rundown of his impressive credentials.
The FBI agent stood about six feet tall with a solid build that filled out what looked to be an expensive Italian suit. He had brown hair and eyes, and spoke in a manner that immediately instilled both intelligence and confidence.
"Last night we had our agents in Atlanta interview Billie Bathgate, the lead singer of Fleshded," Dressler began. "Bathgate wrote the lyrics to the song, 'Love Me or Kill Me.'"
Dressler motioned to the lyrics projected on the screen. "As that interview progressed, our agents learned the song Bathgate wrote contains a cryptogram. As you may know, a cryptogram is a sequence of encrypted text where substitution ciphers are used to solve a puzzle."
I saw Charlie scratching his head. Dressler had probably already lost part of his audience.
"To solve the puzzle in a typical cryptogram," the agent continued, "letters are substituted for numbers and vice versa. Probably the most famous cryptogram of all time was one sent by the Zodiac killer that has never been solved. Fortunately, our cryptogram is far easier to decipher."
Dressler took a moment and used a wireless device to manipulate what was on the overhead projector before continuing. "According to Bathgate, the lyrics of, 'Love Me or Kill Me,' were written as part of a puzzle intended to be a marketing campaign for their song.
"The encryption and subsequent letters were developed as an interactive series of clues that allowed players to engage in an Internet game of hide and seek, all designed to promote the band's music."
Dressler worked his laptop for a moment and then went on. "These lyrics are a duplicate of the ones printed on the CD case for the band's latest album." He hit a button, magnifying the lyrics. "As you can see, some of the letters in the lyrics have a shadow number attached to them. Each number, in turn, corresponds to a letter of the alphabet. For example, the letter 's' in silence has a shadow number six. When you put the entire sequence of numbers together with the corresponding letters from of the alphabet, you eventually get this."
He hit several keystrokes and we saw the highlighted letters from the song lyrics and corresponding numbers begin to line up on the screen. Those numbers, in turn, corresponded with the letters of the alphabet until the screen spelled out something Chloe Bryant had told us about:
FORBIDDENWORLD
Every doubt I'd once harbored about the FBI went away in that moment. I knew we were looking at an entirely new dimension of the case, one that we'd never have found without the handsome computer expert standing before us.
Dressler turned away from the screen and addressed us again. "Before we move on, I probably need to explain that what we're looking at is something called an Alternate Reality Game or ARG. These games have been used for a variety of
Download


Copyright Disclaimer:
This site does not store any files on its server. We only index and link to content provided by other sites. Please contact the content providers to delete copyright contents if any and email us, we'll remove relevant links or contents immediately.